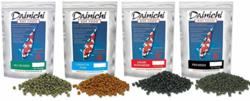 It is cheaper to feed a high quality koi food than to medicate or replace koi due to poor health or motality
(PRWEB) June 30, 2011
KoiPondFever.com offers a complete line of premium koi food to promote growth and enhance color at affordable prices. To make premium koi food even more affordable they have also recently added free shipping to all Dainichi koi food products. "It is cheaper to feed a high quality koi food than to medicate or replace koi due to poor health or mortality," states RC Moore, owner of KoiPondFever.com.
Dainichi, the only koi food in the world imported to Japan by top Niigata breeders, comes in All-Season, Growth Plus, Premium and Color Intensifier. All Dainichi koi foods contain calcium montmorillonite clay. This bentonite clay contains more than 60 mineral compounds and has been proven to be immensely helpful in enhancing digestion and growth, as well as neutralizing metabolic toxins. All Dainichi koi food formulas are coated with a special vitamin and mineral coating after the extrusion process to assure optimum nutritional potency. This cold process ensures that ingredients which would normally be denatured, or even totally destroyed, by exposure to heat are kept at their full potency. Virtually everyone knows that vitamins and digestive enzymes should not be exposed to heat, but only Dainichi makes this fact a reality.
Toyoma (Inochi's) Breeders' Formula has the same properties as the Dainichi original brand except that the production cycle has been reduced to one step in order to produce a quality koi food more affordable in the larger quantities required by koi breeders. As their original line, it is sold in several formulas. Currently available are the All-Season Pro, Premium Pro and Color Pro.
Hikari Koi Food is by far the most popular koi fish food in Japan and is considered the standard by which other foods are measured. Hikari has researched, developed and produced many types of koi food in their facility for over 130 years. They breed fish in their own facilities and observe the impact of their diets over time. Hikari's state of the art research laboratory is unmatched worldwide. KoiPondFever.com currently carries the Hikari Staple, Hikari Wheat Germ and Hikari Gold.
Hikari's Saki-Hikari Koi Food has been developed as a result of decades of firsthand breeding experience and considerable insight from a number of Japan's top professional breeders. Saki-Hikari is the diet used by the All Japan Koi Show Grand Champion winners in back-to-back shows since 2003. All of the Saki-Hikari diets contain a patented, living probiotic. This "Hikari Germ" is a strain of Bacillus bacteria which, when fed, proliferates itself inside the intestine of the koi offering many incredible benefits. This probiotic facilitates digestion, reduces proliferation of bad bacteria reducing disease, and reduces the amount of waste produced in the digestion process. This improves water quality and reduces the load on the bio-filtration of the pond. KoiPondFever.com carries the Saki-Hikari Color Enhancing, Saki-Hikari Multi-Season and Saki-Hikari Growth. Whether customers have a small pond or large koi pond with show quality koi KoiPondFever.com is the place to shop online for koi food. Most orders ship the same day.
For more information visit KoiPondFever.com
###