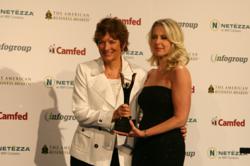 We are very honored to receive this award, and feel fortunate to have the privilege of telling AutoMD.com's story of consumer empowerment in one of the last opaque areas online – automotive repair
Culver City, CA (PRWEB) June 27, 2011
mWEBB Communications, Inc., (http://www.mwebbcom.com) has won the Stevie Award for Communications/PR Campaign of the Year, Marketing/Consumer Services in the 9th Annual American Business AwardsSM. mWEBB received the award for its public relations campaign for the launch of AutoMD.com, the most comprehensive and unbiased free online automotive repair resource.
In winning the Stevie, mWEBB Communications joins other respected companies receiving a 2011 American Business Award, including Apple, Cisco, Amazon.com, Hewlett Packard, Ford Motor Company and Groupon.
The awards were presented during ceremonies at the Marriott Marquis Hotel in New York City. The ceremonies were hosted by Cheryl Casone of Fox Business Network and broadcast nationwide on radio by the Business TalkRadio Network.
"We are very honored to receive this award, and feel fortunate to have the privilege of telling AutoMD.com's story of consumer empowerment in one of the last opaque areas online – automotive repair," said mWEBB Communications President Melanie Webber, who accepted the award at the ceremonies in New York.
mWEBB Communications' public relations campaign for the launch of AutoMD.com focused on the website's unique ability to help car owners make the best possible auto repair decisions, and resulted in broad-based media coverage across multiple channels.
"In public relations, no matter which media channel you leverage – whether social media, broadcast, or the next undiscovered channel on the horizon – without a good story, you really have nothing," said Webber. "Finding that story and sharing it is the heart and soul of a successful campaign. We thank the American Business Awards for not only recognizing our telling of AutoMD.com's compelling story but, in so doing, helping us continue to share it!"
The Stevie Awards were created to honor and generate public recognition of the achievements and positive contributions of organizations and business people worldwide.
More than 200 executives across the country participated in the judging process to determine the Finalists and Stevie Award winners.
AutoMD.com is the most comprehensive and unbiased free online automotive repair resource and allows both car owners and DIYers to 1. Troubleshoot car problems, 2. Know how much auto repairs should cost, 3. Understand the steps needed and the time it should take with How-to Auto Repair guides, 4. Find the right local auto repair shop at the right price for their issue, and 5. Get auto repair questions answered by the AutoMD.com community.
About mWEBB Communications, Inc.
mWEBB Communications, Inc. (mwebbcom.com) is a full-service, multi-channel communications practice specializing in strategic public relations. mWEBB serves consumer-facing and B2B clients across a range of verticals, including automotive, technology, social media, lifestyle and entertainment. Committed to finding each client's best story and creating buzz in a rapidly evolving media climate, mWEBB delivers strong client ROI and results-oriented service from a team of top-notch public relations and communications specialists.
About The Stevie Awards
Stevie Awards are conferred in four programs: The American Business Awards, The International Business Awards, the Stevie Awards for Women in Business, and the Stevie Awards for Sales & Customer Service. Honoring companies of all types and sizes and the people behind them, the Stevies recognize outstanding performances in the workplace worldwide. Learn more about The Stevie Awards at http://www.stevieawards.com.
Sponsors and partners of The 2011 American Business Awards include Infogroup, IBM Netezza, American Support, Citrix Online, Epic Media Group, High Performance Technologies Inc., iolo technologies, LifeLock, Merisel, PetRays, SDL, SoftPro, and Vérité, Inc.
Media Contacts:
Melanie Webber, melanie(at)mwebbcom(dot)com, mWEBB Communications, 424.603.4340
Angela Jacobson, angela(at)mwebbcom(dot)com, mWEBB Communications, 714.454.8776
# # #