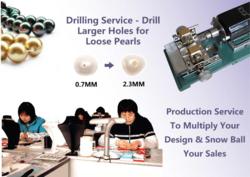 "Besides pearls coloring, we are now adding pearls drilling service along with customized production service for other jewelry such as silver and gold
San Diego, CA (PRWEB) June 29, 2011
For a jewelry designer who is looking for someone to drill large enough holes for stringing thick materials, or just need to have her or his uniquely designed pearl jewelry or any fashion jewelry or fine silver and gold jewelry to be produced in mass quantities, the designer will need look no further any more.
OrientalPearls.net can now drill large holes through their pearls for anybody who specializes in making their own custom designs. OrientalPearls.net can get material as thick as ribbon through their pearls. Along with this new service, OrientalPearls.net also offers customized production service for any type of jewelry from fashion jewelry to silver or gold jewelry for a jewelry designer by using their own in-house manufacturing unit located overseas to reduce the production cost.
While the regular size pearls are typically drilled is 0.7mm, OrientalPearls.net's new service can have pearls drilled with various sizes, from 1mm, 1.5mm to 2mm or even 2.5mm, based off the size of the pearls themselves.
"With our own pearl farms to produce any colored freshwater pearls a jewelry designer wants, OrientalPearls.net would like to be their one-stop destination for any shaped pearls that need to be produced. In addition, we are now also going to be able to drill pearls any way a jewelry maker/designer would like, be it top drilled, center drilled, side drilled, half drilled or diagonally drilled, all at huge discounts without any middlemen's cost direct from pearls wholesaler," says company's spokesperson, Lan Toma.
Besides providing freshwater pearls in any color a customer specify and a flexible pearl drilling service, OrientalPearls.net also offers their production service by lending out their in-house manufacturing unit to custom make any uniquely designed jewelry in bulk. It does not matter how many pieces are needed, or whether they are in 14k or 18k gold or 925 sterling silver jewelry even gold plated base metal jewelry without pearls or whatever kind of pearl necklaces or earrings and bracelets, they can work with the designer to have the piece made to the desinger's specifications, all at a low wholesale cost to get you a much higher profit margin.
"In addition to pearls coloring, we are now adding pearl drilling service along with our customized production services for jewelry designers to multiply their designs and snowball their sales, and make their designs pay off big time," Lan Toma emphasizes.
This is extremely helpful to jewelry designers and even those who just create jewelry as a hobby. Anyone who is planning on taking their own uniquely designed jewelry to the next level will find OrientalPearls.net's array of services easy and convenient as a one-stop go to shop. Not only will jewelry designers be able to reduce their production cost compared to making the jewelry by themselves, they will also be able to sell more to their customers and expand their names and businesses much faster and easier.
"Because we are a USA based company, we are bounded by laws to keep any of the design private and signing the non disclosure form with our clients. All of the designs will be copy right protected as well," says Lan Toma. Indeed several jewelry designers have already been benefiting from having these services done by OrientalPearls.net for their uniquely designed pearl jewelry, including a pair of pearl earrings with very high visibility. Many are discovering this profitable investment that helps to expand their businesses at the lowest possible cost. Especially in an economic environment as we are in right now, customers are much more cost conscious than ever before.
OrientalPearls.net is a branch of C.D. Plus, Inc., an established California corporation. OrientalPearls.net provides the marketplace with freshwater pearls and fine pearl jewelry directly from pearl farms and operates an in-house manufacturing unit. Its headquarters are in San Diego with offices in China and representatives worldwide. The organization has an impeccable record with the BBB. For more information, log on to OrientalPearls.net or call them at (619) 405-8044.
###