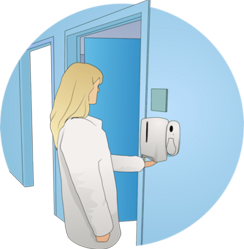 With healthcare costs on the rise and the infection and death toll increasing, a solution must be found to aid in preventing the spread of infectious diseases.
Jupiter, FL (PRWEB) June 27, 2011
PSS communicates through a proprietary wireless communication system called Bentley. It works similar to a home wireless network. Bentley runs independently of the hospital IT infrastructure and connects to the Internet via a cellular modem therefore protecting the patient's confidential information. Data can be viewed virtually in real time through Bentley's 100% web based software or Android application.
Marina Willis, President of UltraClenz, commented, "After 15 years of research and development, UltraClenz has designed the most reliable and cost effective solution to hand hygiene monitoring. The Patient Safeguard System™ is a real time system that provides immediate information and assists with hygienic education. This system was created to protect us all."
PSS was designed to specifically target the hygienic state of a caregiver when interacting with a patient located in a patient bed. The caregiver badge displays the hand hygiene compliance status via a series of LED's.
Every caregiver's badge event is recorded by the system and includes a time/date stamp for the instance the event occurred, the badge's ID number, the sanitary status of the badge and the beacon's ID number. This allows Bentley to know who, when and where the actual event occurred. Reports can be generated by date, location, badge or event for reporting hygiene performance.
PSS is a patient protection system that can ultimately guard human life. A change is needed in the way that caregivers protect themselves and ultimately their patients. It takes the power of one person to make a difference to ultimately protect humanity.
In order to see the system, please join UltraClenz at APIC booth #1144 in Baltimore, MD June 27-29, 2011.
About UltraClenz
Since 1995, UltraClenz LLC (UC), headquartered in Florida, has been creatively integrating information technology with proper hand hygiene. UltraClenz is an original equipment manufacturer of touch-free dispensing and sanitizing solutions for distributors and end users throughout the world. We have a vast array of products ranging from touch free soap & sanitizer dispensers, touch free hand wash sink conversion kits, and complete HACCP monitoring equipment. For more information, visit http://www.ultraclenz.com
###