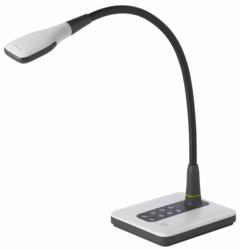 Atlanta, GA (PRWEB) June 27, 2011
Today, PolyVision, a leader in the development of teaching and learning technology, launches several new interactive solutions designed to bring learning to life in the classroom. PolyVision's innovative technology focuses on reaching and connecting all types of learners, wherever they may be. The comprehensive suite of interactive solutions helps districts go beyond traditional teaching and learning techniques and experience the future of education. Launching at the ISTE 2011 conference, PolyVision will showcase a new digital visualizer, sound integrated interactive whiteboard and a new ultra short throw projector to bundle with its ēno® one height-adjustable interactive whiteboard solution.
"Education and technology are evolving at a rapid pace. At PolyVision, we pride ourselves on designing solutions that embrace the power of interactivity while maintaining focus on what truly matters: how we can help teachers and students," said Bob Crain, PolyVision's General Manager. "Our goal is to offer solutions that empower teachers to develop more effective approaches to instruction and to inspire students to explore new ways of connecting with lesson content and each other," Crain added.
New solutions debuting at ISTE 2011 include:
fuse™ digital visualizer
PolyVision's digital visualizer, named fuse, combines a high-resolution document camera, web camera and scanner in a single, compact solution. fuse enables distance learning by providing high-resolution video and facilitates best practices for educators to capture and display documents and real-time annotations. Only fuse offers PolyVision's patented TrueSnap™ technology to automatically rotate documents, eliminate the bend caused by book-binding and provide instant high-contrast photocopies with one press of a button on the user-friendly control panel. Flexible and cost-effective, fuse's multi-function capabilities minimize paper and eliminate expensive power requirements with one simple USB connection.
ēno play
ēno play is PolyVison's latest edition to the ēno family of interactive classroom solutions. With no visible amplifiers or speakers, ēno play integrates sound with the world's most durable interactive whiteboard to tune in every type of learner—from auditory to kinesthetic to visual. ēno play's unique technology goes beyond the capabilities of traditional speakers, filling the room with rich, even sound. Multimedia content comes alive with synchronized music and video and provides a comfortable volume for students anywhere in the classroom. The built-in, fully-optimized amplifier provides surround-sound without additional wiring or classroom modification. The latest ēno solution ensures quick installation and a safe, uncluttered classroom where students hear every lesson clearly.
ēno one ultra-short throw projector
For school districts seeking streamlined simplicity, PolyVIsion is also showcasing an ultra-short throw projector for its ēno one product family, the versatile solution combining a universal interactive whiteboard, projector and height-adjustable mount and lesson development software. With a dedicated projector icon strip for at-the-board control and all new 3D-ready capabilities, PolyVision's latest ultra-short throw projector also comes with an industry-leading 3,000 hour/3 year lamp warranty.
PolyVision professional development
PolyVision training and professional development offerings are designed to teach educators the skills and best practices needed to go beyond basics to transform lesson delivery and increase student achievement. Consisting of an engaging blend of tutorials, workshops, webinars and side-by-side learning with education consultants, PolyVision tailors solutions to accommodate users at any level. PolyVision's complimentary and paid training offerings concentrate on enhancing skills to best utilize educational hardware and software features and functionalities. Focused on developing instructional design methods for each teacher, professional development helps to enhance curriculum delivery and improve student performance. PolyVision's exhibit is centrally located in booth 1725. ISTE conference attendees can view the complete agenda and sign up to participate in the PolyVision sessions offered at http://www.polyvision.com/iste2011.
About PolyVision, a Steelcase Company
PolyVision integrates time-tested tools with innovative technologies to bring learning to life. From environmentally certified writing surfaces to industry-leading interactive whiteboards, PolyVision solutions help people learn and collaborate in a connected world. Since 1954, PolyVision has inspired educators, students and workers to be more productive and creative by providing the most effective tools the company can imagine and create. For more information, visit http://www.polyvision.com.
About Steelcase
Steelcase Inc. helps create great experiences – wherever work happens. Our brands offer a comprehensive portfolio of workplace furnishings, products and services, inspired by nearly 100 years of insight gained serving the world's leading organizations. We are globally accessible through a network of channels, including over 650 dealers. We design for social, economic, and environmental sustainability. Steelcase is a global, publicly traded company leading our industry with fiscal 2011 revenue of approximately $2.4 billion.
###