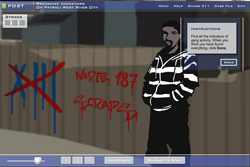 Allen Interactions used a highly interactive to bring home the importance of accurate and detailed field reporting to support gang prosecution.
Minneapolis, MN (PRWEB) June 27, 2011
The 2011 American Business Awards crowned this year's winners, Monday, June 20th, in New York City. Allen Interactions, an internationally acclaimed custom design, development and strategic consulting firm of learning solutions, was named winner of the Interactive Multimedia – Training category for its creative work with the California Commission on Peace Officer Standards and Training (POST).
The award-winning Gangs: PC 186.22 for Patrol interactive e-learning course was developed to help prepare California law enforcement officers to identify and respond to gang activity in their cities. "We are honored to have partnered with California Commission on POST on such crucial training initiatives as educating law enforcement on successfully identifying and responding to gang activity," stated Alex Watson, studio executive for Allen Interactions' San Francisco, California studio. "This prestigious award is a tribute to California Commission on POST's continued innovation in creating learning that is making a difference in gang reporting and prosecution in the State of California."
"In this e-learning course, Allen Interactions used a highly interactive, scenario-based approach not only to educate peace officers about some of the key trends and groups in California, but to bring home the importance of accurate and detailed field reporting to support gang prosecution," stated Catherine Bacon, senior instructional designer for the California Commission on POST's Learning Technology Resources bureau. "We are so pleased with the final product and it has already been taken by over 1,000 peace officers with very positive feedback."
In the course, officers work through a storyline, which includes simulated neighborhood patrols, graffiti identification and challenging field interviews with gang members to gather key evidence in their case files. In the process of successfully navigating the interactive challenges, officers help the DA bring enhanced charges against the leaders of a new, emerging gang.
About The Stevie Awards
Stevie Awards are conferred in four programs: The American Business Awards, The International Business Awards, the Stevie Awards for Women in Business, and the Stevie Awards for Sales & Customer Service. Honoring organizations of all types and sizes and the people behind them, the Stevies recognize outstanding performances in the workplace worldwide. Learn more about the Stevie Awards at http://www.stevieawards.com/, and follow the Stevie Awards on Twitter @TheStevieAwards.
Sponsors and partners of The 2011 American Business Awards include Infogroup, IBM Netezza, American Support, Citrix Online, Epic Media Group, High Performance Technologies Inc., iolo technologies, LifeLock, Merisel, PetRays, SDL, SoftPro, and Vérité, Inc.
About Allen Interactions
Since 1993, Allen Interactions has delivered custom e-learning and blended solutions that serve employees, partners and customers of many of the world's leading companies including Apple, Essilor, HSBC, and Motorola. Through Studios located in the Midwest and East and West Coasts, the Company provides high-level expertise in instructional design, technical, creative, process, project management, and writing integrated together for sustained learning and real business results.
Allen Interactions will launch a revolutionary authoring system, ZebraZapps, in 2011, allowing developers and non-programmers to create rich interactive media applications easily and quickly, as well as share, publish, and sell their inventions. Technology designed and built by Allen led to the formation of Macromedia and revolutionized multimedia software development. With ZebraZapps, Allen is set to disrupt the industry once again.
###