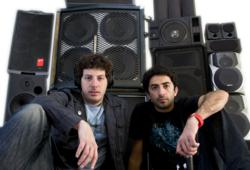 We wanted to incorporate art in all forms, and so far we have incorporated music, moving visual, and still visual.
Los Angeles, CA (PRWEB) June 27, 2011
With the completion of their first album, Trouble, The Stereophones (brothers Kayhan and Kevin Ahmadi) released all ten of their original songs as free downloads along with music videos, artwork, and a growing collection of remixes on http://www.thestereophones.com.
Any musician can tell you that completing the production of an album is no small feat, but there is an added accomplishment that comes with The Stereophones' Trouble. Kevin Ahmadi explains, "We wanted to incorporate art in all forms, and so far we have incorporated music, moving visual, and still visual." Starting in September 2010 and ending this June, The Stereophones released a fully produced song, another musician's remix track, an independently created music video, and a piece of original artwork on the first of each month. "I knew we'd always be releasing songs," says Kayhan, "but I didn't know we would stay so true to the formula that we set for creating and releasing each package."
So each month the brothers Ahmadi set out in recording and mixing a new song while visual artists, video production specialists, actors, and musicians -all from within their creative circle- tackled the assignment of rounding out that full package. "We just love art." Kayhan states, "We offer a challenge to artists that they might not have faced before: To create a visual interpretation of a single song. And I think most artists are up for a challenge." Take Pat Mao for example. Mao conjured the painting that paired with The Stereophones' September release "Fight," and went on to create works in diverse medias varying from charcoal to clay for the music video concept of the March release "Leaving."
This is not to remove attention from the painstaking process of filming and producing a music video for each song with an array of challenges ranging from stop motion ("Games" in October) to filming underwater and on moving vehicles ("Boom" in June) each and every month. "We're just lucky to have found amazing directors with the visions that they had." Kayhan is referring to filmmakers such as Adam Newacheck who directed the video for "Credit" in a single take and that of "500 Days of Cocaine" using nothing but mounted GoPro cameras. Kayhan and Kevin even played a major role in directing and editing some of their own music videos such as the February release "Amerijane" which incorporated nine separate narratives into one theme. A diverse variety of costars included talented actors, fans submitting their own videos ("Thumper" in January), and even complete strangers on the streets of San Francisco ("Live in Love" in November).
The songs themselves conform to no specific genre, which aligns with the duo's goal that Kevin states is "to incorporate different styles together, but hopefully in a way that still fits under an umbrella of music." For instance, fans of alternative and pop rock might initially be drawn to The Stereophones, but get the opportunity to explore styles like reggae in January's "Thumper" and electronica in May's "Getaway." The ten tracks are unified through the album's theme and title Trouble, but Kayhan proclaims, "I like leaving most of that up to the listener."
Now that the album is completed, The Stereophones are giving their fans a cherry on top of the artistic sundae. Starting in June, all of their songs are available for free download on their website. That includes the entire album Trouble in addition to the still-growing remix album Bletrou. Visitors to the website can also find pictures of the original art in high resolution, band photos, and links to their high definition music videos on YouTube. This gives audiences an insight into the Ahmadis' view of the music industry that they are tapping into. "We're hoping to create a new kind of atmosphere," says Kevin, "where artists like us can profit off self-imposed measures of monetary gain, such as advertisements." In contrast, selling music keeps potential listeners from making their contribution to the aforementioned sundae, a contribution that Kayhan says is "to hear our music and enjoy the art."
###