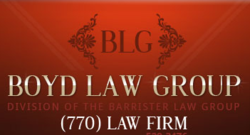 Atlanta Metro, GA (PRWEB) June 27, 2011
There are many individuals and families throughout the Decatur, Cumming, Lawrenceville, Suwannee, Buford, Duluth, Gwinnett, Norcross, Johns Creek, Alpharetta, Milton, Forsyth, Dunwoody, Sandy Springs, Buckhead, Decatur, Stone Mountain, DeKalb, Druid Hills, Belvedere Park, Tucker, Chamblee, and Doraville areas that are suffering extreme financial stress and seeking a way to bring the matter to a resolution. The law firm provides skilled legal support in all bankruptcy matters, including Chapter 7, Chapter 13, and Chapter 11. Providing knowledgeable legal representation to the entire North Atlanta area, the firm can evaluate the individual case to determine what will best serve the client's needs. Their new site, created by the marketing team at Scorpion Design, allows the potential client easy navigation and access to the firm through multiple contact points throughout the site.
The firm is professional, knowledgeable, trustworthy and dependable. The legal team is local members of the community and is there to help their friends, neighbors and associates and small business owners when they have gotten in serious financial trouble and need help. The federal bankruptcy laws allow for those who have suffered a severe financial downturn and cannot pay their debts to get a fresh start. In family law matters, the firm provides personal legal representation in all types of family law matters, including divorce, custody, support and visitation. Keeping their clients interests as their focus, the firm can assist those in the Decatur area needing to resolve an urgent family law matter.
Estate planning can be a confusing process, and having an attorney that knows this area of the law cold is critical. How your estate is arranged with regard to tax planning, distribution of assets, probate, and litigating estate matters are all part of the everyday business of the firm. For those in the Atlanta Metro area who need skilled legal assistance in resolving any estate planning matter the legal team is there to help get it resolved with the client's interests and wishes as their primary concern.
Contact North Atlanta bankruptcy lawyer at Boyd Law Group for more information.
###