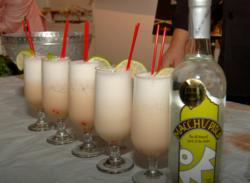 The Centennial Macchu Pisco Sour Celebration is a toast to Peru's cultural riches and the resurgence of Pisco in the US.
New York, NY (PRWEB) June 27, 2011
On July 5, 2011, Macchu Pisco LLC will be hosting at Pio Pio (Hell's Kitchen) from 3-5 pm the Centennial Macchu Pisco Sour Competition as their nationwide search for America's top mixologists continues (http://www.macchupisco.com). This competition hopes to find the ultimate liquid incarnation of Machu Picchu to commemorate not only its re-discovery but also the rich Inca heritage surrounding this 7th New Wonder of the World.
Since this is not merely a simple cocktail competition but rather a cultural event, the New York winner, along with all other city winners, will go on to Lima, Peru this Fall where the final round of the competition will take place. The grand-prize winning cocktail will be crowned as the official "Centennial Macchu Pisco Sour", and its creator will then travel to Cusco where he/she will stay at the 5-star El Monasterio Hotel, continuing to Machu Picchu itself via the famed Hiram Bingham train that is part of the historic line of Orient-Express trains (http://www.orient-express.com/web/hb/hiram_bingham.jsp).
Company founder, Melanie Asher, expressed the importance of involving the New York bartending community in this initiative: "New York was one of our first markets in the US and is today at the epicenter of the most cutting-edge mixology experimenting with Pisco." As such, it is no surprise that innovators from the cocktail scene in NYC will be participating like, Death & Co., Dutch Kills, Employees Only, Jack the Horse, Fort Defiance and Eleven Madison Park amongst others.
While the Distilled Spirits Council of the US has called Pisco the fastest growing spirit category in the country, the participants of this competition are trailblazers who embraced Macchu Pisco long before the category gained this standing. Macchu Pisco entered the US market 5 years ago and is today one of the leading exporters of Pisco due in large part to their success in national competitions, most recently the Ultimate Cocktail Challenge where it was awarded a 95-point score and deemed the "Extraordinary" choice for making classic Pisco cocktails (http://www.ultimate-beverage.com/wine_reviews/spirits-results).
Lizzie Asher, President of Macchu Pisco LLC, noted: "While we toast to one Peruvian treasure being re-discovered by an American, likewise we can say that Peruvian Pisco is being put on the map thanks to bartenders who embody Hiram Bingham's spirit of adventure." It will be not only the participating mixologists' adventure but also their creativity that will be tested Tuesday, July 5th, when they concoct variations on the iconic national cocktail of Peru, the Pisco Sour. From New York, the competition will travel to Washington DC, Boston, San Francisco, Los Angeles and Las Vegas.
###