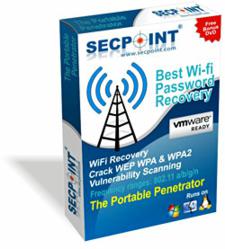 Security firm SecPoint has released a portable version of its penetration testing appliance, Penetrator, designed specifically for pen-testing wireless networks;
(PRWEB) June 28, 2011
Amidst another huge data breach involving a major global corporation and tens of millions of its customers, the need for keeping a network secure has never been shown to be greater. If Sony had policies and operational procedures in place to support ongoing vulnerability assessments and penetration testing – such as that offered by SecPoint - it's likely that its network would never have been compromised.
In the last few weeks alone, groups like Anonymous and Lulzsec, have successfully breached major corporate and government systems, including those at News International, Sony (where the attack has cost it $171 million), the Brazilian Government, the US Central Intelligence Agency and US Senate and the UK's Serious Organised Crime Agency.
A new article entitled 'Hacking Wi-Fi the easy way' by renowned IT security journalist Danny Bradbury, extols the many benefits of SecPoint's flagship security product, the Portable Penetrator – which offers comprehensive protection against the threat of such attacks...
In the Portable Penetrator, SecPoint - one of Europe's leading security systems providers - has combined all of the latest hacking and cracking tools to offer the most comprehensive penetration testing kit available today.
You can access and read Bradbury's article, here:
http://www.presswire.com/pr/secpoint/02-Feb-Network-Security-Portable-Penetrator.pdf
Here are some quotes from the piece...

"Security firm SecPoint has released a portable version of its penetration testing appliance, Penetrator, designed specifically for pen-testing wireless networks;
"SecPoint's Portable Penetrator product is designed to conduct all wireless hacking tasks in a single package. The product ships on a Dell netbook as a pre-installed Linux distribution with SecPoint's own tools added. The unit also comes with an external Wi-Fi card, which plugs into the USB port of the network;
"One of the things that the system can help a pen-tester to spot is rogue access points, which are more common than you might think. These can be installed maliciously or naïvely. Attackers install them covertly by plugging them into the wired infrastructure and then use them to gain access to the core network from hundreds of feet outside the building;
"SecPoint's Portable Penetrator includes the ability to mount re-authentication attacks as part of its workflow. Its main value proposition is that it brings together all the tools and files available across all Linux distributions in one conveniently preconfigured package;
"In short, SecPoint's device is well-configured and easy to use."
SecPoint recently made its flagship products available virtually as VMware images, doing away with the requirement for dedicated hardware. Journalists are offered a VMware download of this Portable Penetrator system to review, by emailing: victor(at)secpoint(dot)com or applying directly from the free demo page, here: http://www.secpoint.com/free-portable-penetrator-demo.html which provides a 30-day VMware Portable Penetrator trial.
Follow SecPoint on Twitter, SecPoint youtube channel
Images and video available for publication:
Web: secpoint.com/newimages/software/portable-penetrator-software.jpg
secpoint.com/newimages/Portable-Penetrator-PP3000-1-Web.jpg
Print: secpoint.com/newimages/software/portable-penetrator-software-highres.jpg
secpoint.com/newimages/Portable-Penetrator-PP3000-1-HighRes.jpg
youtube.com/watch?v=Q65jVVkTAUg (Shows: WPA2 Audit on Portable Penetrator PP3000)
Notes to editors:
Europe's leading IT-security company SecPoint delivers specialized UTM, vulnerability management solutions with Grey Listing, Web Filter and Content Filter.
Services include Intrusion Prevention, IT Security Penetration Testing and Wi-Fi Security auditing to businesses worldwide.
Operating globally since 1999 and headquartered in Copenhagen, Denmark, SecPoint has been delivering high-end security products to more than 1200 customers across SecPoint Operations in the United States and Europe.
For further information, please contact:
Victor Christiansenn
victor(at)secpoint(dot)com
Tel: +45-40 90 16 30
http://www.secpoint.com
For the latest news follow SecPoint on:
twitter.com/secpoint
###