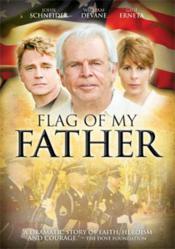 This film is touching veterans and their families in a very profound way because it brings awareness to the struggles of veterans
Monroe, LA (PRWEB) June 28, 2011
After its well-received television airing on Memorial Day, "Flag of My Father" will once again air on TBN on July 2, 2011 at 11 p.m. Central time, in commemoration of the country's July 4th Independence Day celebration.
Starring John Schneider, GiGi Erneta, Andrew Sensenig and William Devane, "Flag of My Father" is an inspiring story of an ex-Army nurse's struggle to find healing and closure to her traumatic experiences in Iraq while trying to keep her family together. Written and directed by executive producer Rodney Ray, and produced by Louisiana-based Christian filmmaker Cheryl Wicker, "Flag of My Father" won the Best Narrative Feature and the Choice Award for actor William Devane at the GI Film Festival in Washington DC on May 15, 2011.
Producer Cheryl Ariaz Wicker says that Flag of My Father is a highly relevant patriotic film that exposes the plight of returning war veterans, particularly the more than 171,400 Iraq and Afghanistan war veterans afflicted with post-traumatic stress disorder (PTSD). "This film is touching veterans and their families in a very profound way because it brings awareness to the struggles of veterans," states Wicker. "Not only does the film seek to shed light on the challenges of our veterans, it is also an uplifting story of courage and sacrifice."
Lead actress GiGi Erneta who plays the army nurse struggling from PTSD was able to bring authenticity to her role as a PTSD victim herself. "Hopefully this movie helps soldiers and their families come together and talk about issues like PTSD, so the healing can happen."
The R-Squared Productions film, shot entirely in Louisiana, has earned 4 stars for family friendly content from the Dove Foundation.
"Flag of My Father" is now available on DVD at Christian bookstores nationwide including LifeWay Christian Stores, Family Christian Stores, and numerous online stores as well.
TBN (Trinity Broadcast Network) is the world's largest religious television network. For local channels or more information, visit tbn.org.
###