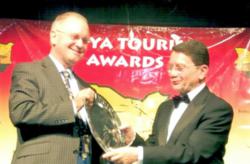 (PRWEB) June 28, 2011
Gamewatchers Safaris is very proud to announce its receipt of the prestigious Tour Operator of the Year Award. This award has been presented to Gamewatchers Safaris by the Kenya Tourism Federation in partnership with the Kenya Tourist Board. This award is yet another in a growing list of accolades that distinguish Gamewatchers Safaris as the premier tour operator in Kenya, and they are honoured to have been selected.
The Kenya Tourism Federation and the Kenya Tourist Board hosted the inaugural Kenya Tourism Awards on June 23rd in Nairobi. The gala awards event was fortunate to have many special guests in attendance. Among these guests were the Secretary General of the UN World Tourism Organization, Dr. Taleb Rifai, and Kenya's Minister of Tourism, the Hon. Najib Balala. The Kenya Tourism Awards were created specifically to award the achievements of those contributing to the growth of tourism in Kenya. The awards ceremony not only awards the current achievements of tour operators in Kenya, but it also celebrates the strides that are made in the Kenyan tourism industry under many difficult circumstances.
In the end, the prestigious award for "Tour Operator of the Year" was won by Gamewatchers Safaris, and managing director Jake Grieves-Cook was on hand to receive the award. It was presented by Dr. Taleb Rifai, the Secretary General of the World Tourism Organization. Within a diverse field of extremely qualified possible tour operators being considered for this award, Gamewatchers Safaris was able to distinguish itself as the best, and is humbly honoured to receive this award.
Gamewatchers Safaris has been a premier Kenyan wildlife safari operator for over 20 years, operating off of a principle of sustainable tourism. While Gamewatchers wants to grow and expand their operations, they only want to do so in a way that is not detrimental to the local environment or local residents. Gamewatchers Safaris has developed a system whereby tourism dollars can be applied to conservation, and preserving the livelihood of locals who rely on this land for game and grazing. By providing local residents with an option to make a living through promoting conservation, Gamewatchers Safaris has been able to promote a more lasting and worthwhile model of conservation in conjunction with the local community.
Gamewatchers Safaris is honoured to have received the award for Tour Operator of the Year. This solidifies the status of Gamewatchers Safaris as a premium tour operator in Kenya, and a true innovator in the field.
For more information on Gamewatchers Safari, please visit http://www.porini.com/. You can book a Kenya Safari today!
# # #