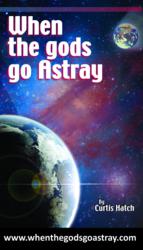 "The world is a dangerous place to live; not because of the people who are evil, but because of the people who don't do anything about it." Albert Einstein
Westminster, SC (PRWEB) June 29, 2011
Slavery, however, is predictable and self-perpetuating. Curtis Hatch uses science fiction to both entertain and inform. He is an exciting newcomer to the science fiction arena. His new novel, "When the gods go Astray," challenges concerned citizens and the Tea Party Movement to look for innovative ways to alert and educate the populate. Liberty and self-determination, left unattended, slowly and systematically devolves to a form of slavery.
Hatch, a long time resident of South Carolina, has been married for forty-six years. He and his wife Sheron have three children, seven grandchildren and a great grandson. Hatch is a veteran of the United States Air Force and a loyalist to the U.S. Constitution and the democratic republic. The Constitution enumerates the nation's God given rights to life, liberty, and property. Hatch believes in small, fiscally responsible governments, at all levels, that answer to the people. Retirement has presented him the opportunity to become more involved and to pursue his writing interests. His editorials have been published in newspapers, and he has been the guest on radio talk shows discussing political and social issues. He has also done several television interviews.
On the planet Niburu, as portrayed in "When the gods go Astray," individual freedoms and property rights are but distant memories taught in a few ancient history books. The people have become wards of the state, relying on government for employment, housing, food, health care, transportation, and every other aspect of life. The parallels are strikingly apparent with much of present day planet earth. Hatch offers a view of what Earth could look like in a few decades if the people stay complacent, uninformed, and unconcerned.
Kyah Nuggen and Jebaan Kanzz are college students from different social classes. She is from the elite of the elite and he from the lowest class. Scholastic needs brought them together; social demands threaten to tear them apart. Their blossoming romance is attacked from many fronts. The taboo of crossing class and race barriers puts them on a collision course with powerful forces and unbelievable deception.
Unlike George Orwell's no hope ending in "1984," Curtis Hatch believes there is always optimism if the fire of liberty burns in the hearts of determined citizens. It remains to be seen if the fire burns sufficiently or not. If not, slavery is in store for the population of these United States. The degree will increase over time.
Hatch is carrying his message through the Tea Party, Media, the Internet, and public appearances. He hopes his view of the society in the novel will prompt people to stop and ask a simple question. Is Niburu the society one wishes for his or her grandchildren?
The novel is available at http://www.whenthegodsgoastray.com and at Amazon.
Mr. Hatch is available for interviews, speaking engagements or guest appearances. He can be reached through Golden Corner Enterprises, LLC.
###