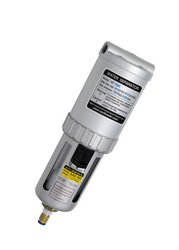 Toronto (PRWEB) June 27, 2011
The Nex Flow™ X-Stream™ Liquid Super Separator uses a world patent pending special radial nozzle centrifugal design to remove 99.9% of liquid mist (including water and oil mist) without the need of a replaceable filter element. Standard sizes are 9, 22, and 64 SCFM.
Unlike large upstream separators, these units are designed to be used upstream from an air gun, blow-off product or any device using compressed air and may be used in place of a standard air filter. If micron size is a concern, you can still use a standard water or oil filter but the replaceable cartridge life will be dramatically extended as the X-Stream™ Liquid Super Separator will remove the vast majority of the liquids and mist.
Units come complete with an automatic drain, have extremely minimal pressure loss and are virtually maintenance free. (Only the automatic drain may be subject to wear and tear and is easily replaced.)
Despite the use of driers at the compressor location, there can often still be condensation and moisture entrainment into air lines downstream of the compressor causing havoc with cylinders, solenoid valves, tooling and blow-off and other pneumatically operated equipment. Traditional filters normally used can sometimes be overloaded requiring frequent replacement of cartridges – a maintenance and downtime cost.
The Nex Flow™ Super Separator is placed upstream from the point of use and upstream from existing filters to remove the moisture and particulate. Existing filters may be replaced or simply kept in place for extra security but the life span of their cartridges can be extended four to five times or more.
We are so confident of the Nex Flow™ Super Separator we offer a five year warranty.
Available in three capacities: 9 SCFM, 22 SCFM and 64 SCFM. Units may be installed in parallel to address different requirements as necessary.
Applications and industries:
Paint Lines
Pharmaceutical
Food Industry
Semiconductor Industry
Shipbuilding
Power Plants
Precision Metal Working
Prevent line Freezing
Cement Industry
Automotive Industry
Textile Industry
Pulp & Paper Plants
Chemical Industry
Packaging
Contact:
Nex Flow Air Products Corp.
10520 Yonge Street, Unit 35B-220
Richmond Hill, ON, L4C 3C7
USA and Canada: +1-877-797-2777
International: +1-416-410-1313
FAX: +1-416-410-1806
sales(at)nexflowair(dot)com
http://www.nexflowair.com
###