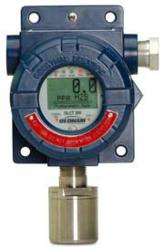 Arras, France (PRWEB) June 27, 2011
Oldham, an Industrial Scientific company and leading global provider of fixed gas detection equipment and services, today introduced the OLCT 200 gas detection transmitter. The OLCT 200 fixed transmitter is intended for use in monitoring for hazardous levels of industrial gases.
The OLCT 200 is designed for use with multiple gas detection technologies including electro-chemical, catalytic bead, infrared (IR), and photoionization detection (PID) sensors. This allows the OLCT 200 to detect many typical gases and provides users the ability to standardize on one transmitter for all of their gas detection needs. Moreover, the OLCT 200 provides users the ability to monitor two different gases simultaneously and further provides the ability to remote mount sensors away from the transmitter and display. This is ideally suited for applications where gas monitoring is needed in remote or difficult to reach locations.
The OLCT 200 is designed for application flexibility and is compatible with nearly any fixed gas detection installation. It can be configured for 2-wire and 3-wire 4-20mA analog output, Modbus RTU digital output, HART communication and wireless communication. Furthermore, the OLCT 200 offers optional on-board programmable relays and can be configured with either a painted aluminum or stainless steel explosion-proof housing. Additionally, the OLCT 200 can be configured with a cold climate heater to allow for operation in environments where other transmitters cannot effectively perform.
The OLCT 200's wireless capability provides customers the benefit of a completely wireless gas detection system. The self-contained transmitter provides onboard battery power and wireless data transmission for most of the OLCT 200's gas sensors. Furthermore, the OLCT 200's 900MHz or 2.4GHz wireless communication is directly compatible with all of Oldham's WX series alarm controllers and with Oldham's MPSIV mobile monitoring system.
OLCT 200 configurations can be used in explosion-proof and intrinsically safe applications and it has been approved for use in hazardous locations by CSA. Furthermore, the OLCT 200 hardware has been analyzed by exida LLC to be suitable for use in SIL 2 applications providing evidence of the OLCT 200's high reliability.
For more information on the OLCT 200, visit http://www.oldhamgas.com.
About Industrial Scientific - Oldham S.A.S.
For more than 100 years, Oldham has specialized in safety and specifically in gas and fire detection. Oldham is headquartered in Arras, France and is a subsidiary of Industrial Scientific Corporation. It employs more than 250 people globally and has operations in France, USA, China and Germany. Oldham's mission is to be the best provider of fixed-point gas detection systems worldwide. It offers a wide range of application-driven products, expert advice, and only the highest quality and best customer service in all transactions. For more information, visit http://www.oldhamgas.com.
About Industrial Scientific Corporation
Industrial Scientific Corporation is the world's leading provider of Gas Detection as a Service. With more than 850 people working in 18 countries, Industrial Scientific is dedicated to eliminating death in the workplace by the end of this century. Achieving this goal requires dedication to delivering highest quality and best customer service in all transactions. Industrial Scientific also focuses on providing analysis of data from equipment use and maintenance to identify problems before they happen. Industrial Scientific has operations based in Pittsburgh (USA), Arras (France), Dortmund (Germany) and Shanghai (China). The company provides technical services to customers from local service centers around the world, and has additional offices in Australia, Bahrain, Brazil, Canada, Czech Republic, India, Indonesia, Mexico, Netherlands, Qatar, Saudi Arabia, Singapore, United Arab Emirates and the United Kingdom. Industrial Scientific is the parent company to Oldham (http://www.oldhamgas.com) and Predictive Solutions Corporation (http://www.predictivesolutions.com). For more information, visit http://www.indsci.com.
# # #