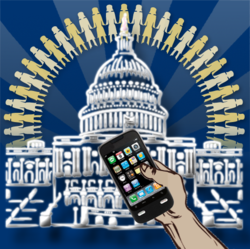 Let freedom ring!
Belleville, NJ (PRWEB) June 29, 2011
Democracy just got a whole lot easier for women. The Breast Health & Healing Foundation (BHHF) announces the launch of Lobby Me Pink, a free smart phone application that enables users of iPhone, Blackberry and Android devices to send emails to their lawmakers on Capitol Hill.
"The most effective way to reach your lawmaker is to contact him or her directly," says Kathleen T. Ruddy, M.D., President of BHHF, a breast cancer surgeon and daughter of a 35-year breast cancer survivor. "The email goes directly into the inbox of your senator or congressional representative or his/her chief of staff."
Women can email their concerns about what matters to them: jobs, Social Security or healthcare, such as the need to fund vaccine research to prevent breast cancer. "I personally emailed my Congressman asking him what his position was with regard to support and funding of research for the primary prevention of breast cancer that can lead to a vaccine," states Dr. Ruddy.
Users enter their zip code thereby accessing the names, addresses and phone numbers of their senators and representatives in Congress. Users can then send a personal email directly to them. The goal of Lobby Me Pink is to energize the public to greater participation in the political process, restore accountability to the lawmakers on Capitol Hill, and turn every phone in the country into a virtual voting booth 24/7/365.
About the Breast Health & Healing Foundation
(http://www.breasthealthandhealing.org/learn)
The Breast Health & Healing Foundation is a 501(3)(c) tax exempt, non-profit foundation. The mission of the Foundation is to discover the specific causes of breast cancer and to use that knowledge to prevent the disease.
Contact:
Kathleen T. Ruddy, M.D
Breast Health & Healing Foundation
36 Newark Avenue, Suite 130 Belleville, NJ 07109
drruddy(at)breasthealthandhealing(dot)org
phone: 973-450-9955
###