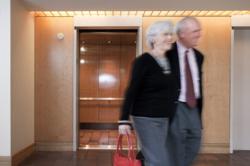 Morristown, NJ (PRWEB) June 27, 2011
Schindler Elevator Corporation introduces its new, cost-effective elevator modernization solution specifically designed for mid-rise buildings. With an integrated group of technology upgrades incorporating Schindler components with proven performance, reliability, and sustainability improvements building owners have come to expect, Schindler can now quickly and easily modernize older elevators in mid-rise buildings with shortened lead times and minimal downtime.
The components of Schindler's mid-rise modernization solution are designed for fast, easy retrofitting to older elevators. The company's redesigned Miconic ®TX control platform allows for ease of installation, while continuing to deliver the proven reliability from Miconic TX. Components include:

Schindler Miconic® TX intelligent controllers
Schindler Power Factor 1 energy-efficient regenerative drives
Schindler Varidor 50A closed loop linear door operators for smooth, safe, reliable door operation.
Schindler standard serial fixture packages.
In addition, Schindler Remote Monitoring™ (SRM), a proactive maintenance tool, monitors the upgraded system 24/7 and helps return equipment to service up to 22% faster than traditional troubleshooting methods.
Customers can also add Schindler Lobby Vision®, a building management system, to their modernization. The system provides real-time management of elevator groups and sophisticated traffic statistics for performance reporting.
"Many buildings built in the 1970s and 1980s now require newer technology to stay competitive in the marketplace," says Michael Landis, vice president, Marketing for Schindler. "With Schindler's new modernization solution, building owners can bring their mid-rise buildings' elevators up to today's standards for reliability, efficiency and sustainability quickly and cost-effectively with minimal disruption."
Sustainable features
The Power Factor 1 regenerative drive technology helps return energy back into the building's power line. Options such as replacing older geared technology with new gearless machines and LED cab lights with automatic shut-offs are available to further enhance energy savings. Recyclable packaging helps make Schindler's modernization solution even greener.
Schindler ID® Destination Dispatching
To further enhance building value and improve passenger experience and productivity, Schindler's mid-rise solution is also available with Schindler ID, which provides more efficient traffic handling as well as access control features and personalized service. Schindler can interface an elevator system's existing controllers with Schindler ID® destination dispatching before the modernization begins, eliminating much of the disruption in service experienced with more traditional modernizations. Schindler ID can be turned on with "a flip of a switch", usually over a weekend and without disruption of service. Personalization and access control can be provided via passengers using an identification medium or PIN code and assigned a car without any need for further interaction.
To learn about Schindler's mid-rise modernization, visit the company's website at http://www.us.schindler.com.
About Schindler Elevator Corporation
Schindler Elevator Corporation designs, manufactures, installs, services and modernizes a broad range of elevators, escalators and moving walks for almost every building type. The company is the North American operation of the Switzerland-based Schindler Group, a leading global mobility provider with approximately 43,000 employees operating in more than 100 countries. Supporting sustainable urban development with safe, reliable and ecologically sound mobility solutions, Schindler equipment moves one billion people everyday all over the world. For additional information about Schindler Elevator Corporation, visit the company's Web site at http://www.us.schindler.com.
# # #