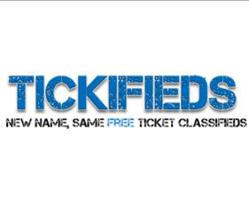 This strategic move will enable the site to grow and build a better community of ticket buyers and sellers with a much more memorable and marketable name.
(PRWEB) June 28, 2011
Glowfly Media, LLC, is pleased to announce a new name for its popular ticket classifieds website. On Monday, June 27th, Free Ticket Classifieds officially has been renamed as Tickifieds. While the services will remain the same, this strategic move will enable the site to grow and build a better community of visitors to buy and sell tickets with a much more memorable and marketable name.
While the migration went live on Monday, there are still many plans for key upgrades, new features and a large marketing campaign to build upon the success which has already been achieved over the past 3 plus years. A thorough effort is being made to ensure no links are left un-redirected and traffic continues to grow. Vice President of Marketing, Susie Glowacki, says, "This is a very exciting change that will better help the users understand our site and its mission. A ticket classifieds site is still such a novel idea out on the internet and we are thrilled that we can provide a fantastic service for our loyal customers. Tickifieds offers a safe and reliable alternative to Craigslist for private ticket selling."
Tickifieds (nee Free Ticket Classifieds) was started in 2008 after the founder saw a lack of event ticket marketing sites that were safe and free of spam. Tickifieds site offers non-commercial ticket sellers up to ten free ads per month. Those selling on a larger scale can purchase a Premium Membership for $50 a month, which is discounted when a seller purchases multiple months. Premium Membership allows brokers and other large volume ticket sellers to post an unlimited number of ads. Tickifieds charges no service fees when users buy tickets on the site.
The site's use of Search Engine Optimization (SEO) is touted as it's most unique and value-added feature. Oftentimes when a user searches for particular tickets, Tickifieds ads appear on the first page of the search results. "The goal is to make the site as search engine friendly as possible. The innovative use of marketing and social media allows even the smaller ticket broker to have high placement in the search engines via Tickifieds.com," says Glowacki.
Glowfly Media is a Limited Liability Corporation (LLC), based out of Chicago, which specializes in creative web solutions for businesses. They specialize in developing custom web applications, content management systems, and marketing strategies to suit the needs of a client's business or concept.
###