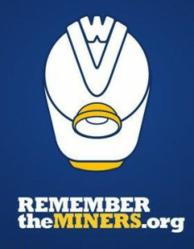 Bristol, VA (PRWEB) June 27, 2011
Remember the Miners (RTM), the non-profit organization dedicated to honoring coal miners and their legacy through public awareness campaigns and charitable contributions, is excited to announce a new fundraising partnership with Bristol Motor Speedway for the IRWIN Tools Night Race on August 27th.
To support the RTM Scholars Program, RTM and Bristol Motor Speedway are offering a special RTM ticket package for the IRWIN Tools Night Race. A portion of the proceeds will go directly to the RTM Scholars Program, which raises money for the West Virginia Coal Foundation to support miners and their dependents in their ongoing educational pursuits.
In addition to admission to the race, the RTM ticket package will include access to an exclusive RTM event, a $20 donation to the RTM Scholars Program, a meet and greet with Mike Crowder and Jerry "Wildman" Edwards from Spike TV's hit series COAL and a surprise NASCAR personality appearance.
Adding to the festivities will be Pikeville, KY-based country music singer Neal Spears and his band, Unit 31. The band will be performing their hit single "Coal Keeps the Lights On," as well as other favorites.
Along with the celebrity appearances and live music, each $129 ticket includes a commemorative RTM at IRWIN Tools Night Race T-shirt. More importantly, however, the philanthropic portion of each ticket benefits the RTM Scholars Program, which provides financial aid to miners or dependents of miners interested in pursuing higher education in the mining industry or related field.
RTM will also be awarding its inaugural RTM Scholars Program scholarship at the race, marking its commitment to educating and supporting the future of the mining industry.
Tickets to NASCAR's most popular race, including celebrity guests and musical entertainment, can be purchased here. All proceeds benefit the RTM Scholars Program. Purchase your ticket today and support the RTM Scholars Program.
About Remember The Miners (RTM)
Remember the Miners is a public awareness campaign dedicated to honoring the legacy of all miners and the mining industry, bringing the human element to the forefront of the energy debate, and remembering the miners who have fallen. The RTM Scholars Program, in conjunction with the West Virginia Coal Foundation, benefits dependents of miners by raising funds for the purpose of education within the mining industry. RTM also raises awareness about the sacrifices miners and their families make for our country. For more information, see http://www.remembertheminers.org.
###