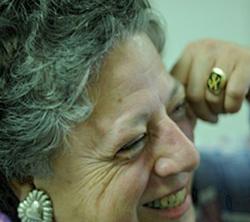 "Our mission," says Habitat Executive Director Neal A. Sullivan "is to build simple, decent housing for families in the lowest qualifying income range."
Martha's Vineyard, MA (PRWEB) June 28, 2011
Renowned storyteller Susan Klein will tell a selection of her beloved Island-based stories at the MVRHS Performing Arts Center Saturday, July 9 from 7 to 8:30 pm, hosted by Habitat for Humanity of Martha's Vineyard. Klein will present a selection of stories included in her book Through a Ruby Window—A Martha's Vineyard Childhood. Klein and photographer Alan Brigish are the creators of the award-winning book Martha's Vineyard—Now and Zen, about the island's communities, traditions and transformations.
Klein is also a workshop leader, award-winning spoken-word artist, a director and producer of spoken-word recordings, an editor, and storytelling coach. Klein received the 2007 Creative Living Award from the The Permanent Endowment for Martha's Vineyard and the Circle of Excellence Award from the National Storytelling Network. Sponsors for Habitat's Susan Klein event are Holmes Home Builders, Martha's Vineyard Savings Bank, Cronig's Markets, Bunch of Grapes Bookstore and South Mountain Company. Tickets for the event can be ordered online at http://www.mvol.com/events/8603 .
"Our mission," says Habitat Executive Director Neal A. Sullivan "is to build simple, decent housing for families in the lowest qualifying income range."Median income of Vineyard families is $58,000, while the median home price tripled between 1997 and 2006 to $695,000. Since 2002, Habitat has partnered with Vineyard families to build eight homes which have brought stability to their children's lives. Currently Habitat is working on the first of three homes on Bailey Park Road in West Tisbury.
The Susan Klein storytelling concert is one of a two-part series to benefit community housing on the Vineyard. The other event, which precedes the storytelling, is a country music concert July 5, produced jointly with the Island Housing Trust. Proceeds from both events will support housing opportunities for working island families. For more information on Habitat for Humanity of Martha's Vineyard please visit http://www.habitatMV.org .
###