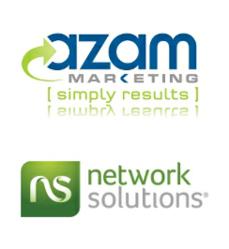 We are excited about leveraging Azam to grow our affiliate program - and spread our powerful brand - in the UK this summer and ultimately expanding into neighbouring EU countries at the end of the year
London (PRWEB UK) 28 June 2011
Azam Marketing, one of the world's longest established digital marketing and design agencies, has been appointed by Network Solutions® to manage and develop their affiliate marketing activities in the UK and across the European Union.
Following a competitive tendering process over a few months, Azam was selected from a shortlist of nine agencies after demonstrating skills and expertise in helping businesses to successfully expand their operations worldwide.
Founded in 1979, Network Solutions LLC is a technology company that manages more than 7 million domain names, over 1.5 million e-mail boxes, and more than 350,000 Web sites.
Network Solutions, headquartered in Virginia in the United States, already runs an industry leading affiliate program in North America.
Azam Marketing will be utilising their 14 years of expertise in the European online market to develop affiliate programs in the UK and other EU markets as part of Network Solutions continuing expansion across the Atlantic.
"After vetting a number of very talented Affiliate Program Management agencies, we are excited to launch Network Solutions' UK Affiliate Program under the guidance of Azam Marketing," commented Zach Boisi, Principal of Affiliate Sales and Marketing for Network Solutions. "We ultimately selected Azam due to the affiliate expertise of the agency's founder, Nadeem Azam, and the experience of his talented account management staff. They are an extremely savvy group with a track record of helping new and existing affiliate programs grown in the UK."
Pragnesh Shah, Vice President and General Manager Online Channels and User Experience, said: "We felt that it was very important for an experienced affiliate agency like Azam to manage the Network Solution's brand, since we have been a global presence for more than 30 years in web-services, such as domain registration, web hosting and ecommerce. We are excited about leveraging Azam to grow our affiliate program – and spread our powerful brand – in the UK this summer and ultimately expanding into neighbouring EU countries at the end of the year."
The UK program allows affiliates to promote a wide range of web services including domain name registration, website hosting, design and ecommerce solutions, website security, and email packages. A wide range of advanced links, banners and tools are available, along with 24 hour publisher support, to ensure the campaign is the best in its field.
Partners can earn generous commissions of up to £90.00 a sale. Affiliates interested in learning more about the Network Solutions UK affiliate program should visit: http://www.networksolutions.com/uk-affiliate-program/index.jsp
Note to Editors:
Network Solutions® fosters small business success in the competitive digital space by providing the tools and resources to start, grow and manage businesses online. Leveraging more than thirty years of pioneering experience, the company is renowned for providing outstanding customer service and solutions that are simple, innovative and reliable.
Azam Marketing has been at the forefront of digital marketing and design since 1997 and specialises in affiliate, email, search and social media marketing, as well as website design and development.
###