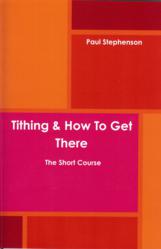 Mr. Paul Stephenson has given us a meaningful, well-written book that shows how to tithe.
- Judee L. Spargur, The US Review of Books
Greenwood Village, CO (PRWEB) June 29, 2011
Have you ever noticed how it always seems to be the season for giving? Giving to the church for stewardship; giving gifts for Christmas; giving thanks on Thanksgiving; giving presents for birthdays, anniversaries, showers, and all those other special occasions. With all this giving, did you ever wonder where the money tree is so you could afford all this giving? This short course on tithing, offers some suggestions and commentary on how we look at giving and ways to make it affordable.
About The Author:
Born in Omaha, Paul spent his youth growing up in Wyoming, his adolescences in the Colorado Rockies and his young adulthood pursuing his Bachelor's Degree at Luther College. He started his professional life as a paralegal that lead him into government work where he ran the nationally recognized Colorado judicial collection investigator program. He has also been recognized as a certified trainer through Mountain States Employers Council. As well as practicing to be a good steward, he spends his time as a corporate trainer.
Other Books By Paul Stephenson:
Salt of the Earth
ISBN: 978-1-4583-3289-9
Published: February 2011
For the past fifty years or so the author has been collecting little phrases that caught his memory. Or tales that give insight into the character and ideas of ordinary folks, the salt of the earth. Take a look inside and see if reading these pages flavor your life for the better.
# # #