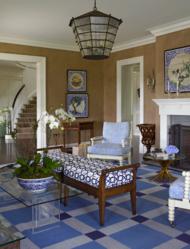 Irvington, NY (PRWEB) June 27, 2011
After recently receiving an award in interior design at Connecticut and Westchester Cottages and Gardens' Fifth Annual Innovation in Design Awards for her renovation and design of Acorn Cottage, Susan Anthony's firm, Anthony-Wright Interiors, has been selected as one of three finalists in the interior design category at the Hamptons Cottages and Gardens' First Annual Innovation in Design Awards for their work on a Southampton home.
The competition highlights and recognizes the best work from professional architects, interior designers, kitchen and bath, and landscape designers throughout the Hamptons.
The award ceremony will take place on Thursday, July 28th at Guild Hall in East Hampton.
About Anthony-Wright Interiors:
Susan Anthony has successfully merged comfort, luxury and service into a unique design company that takes a ground up approach to interiors. Often called upon to do renovations and new construction this design team manages to pull off a look that bridges the past with the future in a delightfully warm, witty and upbeat style. The firm, based in Westchester County, NY, specializes in architectural interior design, residential design, and sustainable practices.
Susan Anthony is CAPS (Certified Aging in Place Specialist) Certified, as well as a GREENleader. She currently holds the position of Communications Director for the ASID (American Society of Interior Designers) NY Metro Chapter and also serves on the Westchester Business Council Green Advisory Board.
Anthony-Wright Interiors is a member of NHBA (National Home Builders Association) and is accredited by the BBB (Better Business Bureau).
###