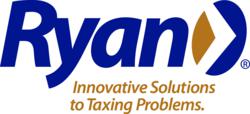 Washington, DC (PRWEB) June 27, 2011
Ryan, a leading global tax services firm with the largest indirect tax practice in North America, today announced that its Washington, D.C. office was ranked second in the Large Employer with Nonlocal Headquarters category of the 2011 Washington Business Journal's Best Places to Work awards. The Washington Business Journal has promoted the Best Places to Work program since 2005 to identify, recognize, and honor top companies that offer the best places of employment in the Washington, D.C. metro area. The process and final rankings are based on a quantitative survey administered by Quantum Workplace, an independent company that asks employees to look at characteristics such as team effectiveness, trust in senior leaders and co-workers, manager effectiveness, and employees' alignment with the company's goals.
In August 2008, Ryan launched myRyan, an innovative work environment that changed the measurement of work performance from hours worked to results achieved. The Firm rolled out myRyan as a major culture shift designed to reach even higher levels of client service and employee satisfaction. Since its inception, myRyan has delivered tremendous dividends for the Firm, its clients, and its employees. Ryan has dramatically improved employee retention and satisfaction, while demonstrating solid year-over-year revenue growth. Most importantly, Ryan employees have achieved the highest client satisfaction ratings in the history of the Firm, while enjoying the freedom to meet the competing demands of work and life.
"Our second-place ranking is a tremendous honor and represents another milestone in our pursuit of providing associates the most innovative and flexible work environment in the tax services industry," said G. Brint Ryan, CEO and Managing Principal of Ryan. "I am proud of every Ryan associate for taking the personal responsibility to deliver superior client service and results while demonstrating the power of workplace flexibility to companies worldwide."
About Ryan
Ryan is a leading global tax services firm, with the largest indirect tax practice in North America and the seventh largest corporate tax practice in the United States. Headquartered in Dallas, Texas, the Firm provides a comprehensive range of state, local, federal, and international tax advisory and consulting services on a multi-jurisdictional basis, including audit defense, tax recovery, credits and incentives, tax process improvement and automation, tax appeals, tax compliance, and strategic planning. In 2010, Ryan received the International Service Excellence Award from the Customer Service Institute of America (CSIA) for its commitment to world-class client service. Empowered by the award-winning myRyan work environment, which is widely recognized as the most innovative in the tax services industry, Ryan's multi-disciplinary team of more than 900 professionals and associates serves many of the world's most prominent Fortune 1000 companies. More information about Ryan can be found at http://www.ryan.com.
###