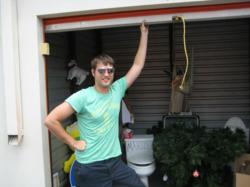 Everyone at SpareFoot should have experience renting a storage unit... This should guide everything we do to make the process easier for consumers.
Austin, TX (PRWEB) June 28, 2011
SpareFoot, the online self-storage marketplace, launched a unique project and blog series called Adventures In Storage, designed to familiarize employees with their product in the most entertaining way possible. The new mixed-media "reality series" documents the start-up's 18 employees as they experience the process of renting and moving into and out of self-storage units.
CEO Chuck Gordon coordinated the nine-week project, in which duos of employees moved a growing pile of possessions from one storage facility to the next around Austin, adding their own creative items for the next teams to discover and move. Each duo was responsible for finding storage near one teammate's home, with or without the help of the company's own self-storage finder site.
All employees - from developers to salespeople to marketers - booked units, signed leases, obtained locks and optionally rented trucks to cart the pile around town. Moving forward, every new employee to join the SpareFoot team will pick up where things left off and complete the task themselves.
The idea sprang from Gordon's realization that most SpareFoot team members had never personally used self-storage, but he wanted them to understand the challenges storage customers face. He hopes Adventures In Storage inspires improvements to SpareFoot's website that will make finding, reserving and executing self-storage easier than ever for everyone.
"To speak intelligently about anything related to the consumer experience, everyone at SpareFoot should have personal experience renting a storage unit," Gordon said. "Everyone will learn what it really means to rent storage, and see how much of a pain it is. This should help guide everything we do to make the process easier for consumers."
The project was documented through filmed interviews with each duo at SpareFoot's office, and some scrappy video footage taken at the storage facilities. Weekly blog posts will unfold the story in a narrative style similar to that of a typical TV reality series. A short video, featuring interviews and photos, will accompany each written post. New blog "episodes" are released every Monday for nine weeks at 6 p.m. CST, starting June 20 on the SpareFoot Blog.
In tandem with the June 1 release of a teaser trailer for Adventures In Storage, SpareFoot is running a social media contest whereby the first three people to correctly guess one item in the final storage unit win $100. All in all, the series should reveal a lot about how a fun high-tech start-up staffed by a team of smart, nerdy personalities operates. It will also be an experiment in pushing the social media reach of a niche industry. Follow along on Twitter @SpareFoot with hash tag #adventuresinstorage.
About SpareFoot:
SpareFoot is the leading online marketplace for self-storage. With more than 5,000 self-storage facilities listed nationwide, SpareFoot offers consumers the most complete comparison shopping experience in the storage industry. Across multiple properties including SpareFoot.com, SelfStorage.com, Apartments.com and many others, SpareFoot helps storage facility operators find new tenants— all through an entirely pay-for-performance model. SpareFoot is backed by Silverton Partners, FLOODGATE and Capital Factory. For more information, please visit http://www.sparefoot.com.
# # #