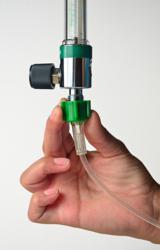 Secure O2 is the only brand of oxygen tubing that truly screws on the flow meter outlet. Secure O2 enhances patient safety by preventing unwanted disconnections and tubing misconnections in the hospital. The revolution in oxygen delivery has begun.
(PRWEB) June 28, 2011
Secure O2 was designed by a veteran respiratory therapist who, over the years, observed how hospital patients were put in jeopardy because standard and universal oxygen tubing allows for accidental disconnections. Both standard and universal oxygen tubing can unintentionally be pulled or blown off, especially when not put on well.
Standard oxygen tubing requires the use of (nipple and nut) tree adapters to attach to threaded flow meter outlets. Tree adapters can be costly and easily misplaced. The reuse of tree adapters between patients, and between different hospital rooms, may increase the risk of hospital acquired infections. Standard oxygen tubing can be easily tugged off, leaving the patient at substantial risk without prescribed oxygen.
Universal oxygen tubing has a soft and flexible, enlarged end that pushes over the metal threads of an oxygen flow meter. Since the universal end is soft and flexible, it often goes on crooked and can leak. Because universal oxygen tubing does not truly screw onto the flow meter outlet, it can also be easily tugged off. Every so often, physicians, nurses, and respiratory therapists will find their patients' oxygen tubing on the hospital floor, disconnected from the flow meter. Unwanted tubing disconnections, along with tubing misconnections and medical gas mix-ups, are inherent problems often associated with oxygen tubing.
Secure O2 solves these inherent problems by providing a built-in, hard plastic, threaded connector that is free to rotate and can truly screw onto the oxygen flow meter for a secure, reliable, and convenient connection, without coiling. Secure O2 also pushes onto the stem outlets of humidifier jars and transport tanks. The innovative oxygen delivery technology of Secure O2 allows you to have the convenience of universal oxygen tubing, but without the risk of disconnections and misconnections.
Secure O2 functions like having a fresh, built-in swivel tree adapter, but without the cost. If the cost of current tree adapters have been adding up; or, if tree adapters have gotten dirty from frequent reuse between patients; Secure O2 provides a cost effective and sanitary solution, which may reduce the spread of hospital acquired infections.
The patented Secure O2 connector also helps prevent medical tubing errors, such as tubing misconnections and medical gas mix-ups. A tubing misconnection occurs when different medical tubing systems are cross connected accidentally. An example of a tubing misconnection is the cross connection of nasal cannula oxygen tubing with an intravascular (IV) fluid line. The built-in Secure O2 connector helps prevent tubing misconnections because it is threaded for a medical gas flow meter only. A medical gas mix-up occurs when someone accidentally connects medical gas tubing to the wrong source of medical gas. Medical gas flow meters are color-coded. The green Secure O2 connector corresponds to the green oxygen flow meter to help prevent medical gas mix-ups.
AEROLUNG's mission is to solve the problems inherent with existing oxygen tubing and set a new standard for oxygen delivery. AEROLUNG's Secure O2 products include:

Soft, cushioned nasal cannulas, with crush-resistant safety channels, designed for maximum patient comfort. Secure O2® soft nasal cannulas are available in seven foot (2.1 m) and fourteen foot (4.3 m) tubing lengths with the built-in Secure O2 connector.
Soft and comfortable, elongated style oxygen masks, including Venturi masks, and high concentration masks with reservoir bag; all with seven foot Secure O2 crush-resistant oxygen tubing.
Secure O2 is the cost effective, failsafe solution to the medical industry's needs and can reduce hospital liability. Please visit our website at http://www.secureo2.com for more information and how to order.
###