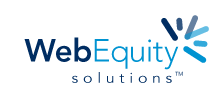 Omaha, NE (PRWEB) June 28, 2011
WebEquity Solutions® LLC (WebEquity) announced today that 18 additional Independent Community Bankers of America (ICBA) member institutions have adopted its commercial/Ag lending solution in just three months since the Company's endorsement as an ICBA Preferred Service Provider (PSP). These new customers join the ranks of hundreds of community and regional banks that have made WebEquity their single system of record for compex credit analysis and risk management.
Institutions of all asset sizes and geographic locations continue to turn to WebEquity to automate, optimize and achieve uniformity throughout their commercial lending processes. This latest surge of customer growth represents ICBA members including: Eastwood Bank of Minnesota, Farmers & Merchants Bank of Indiana, Bank of Beaver City and The Bankers Bank in Oklahoma, Wisconsin-based Denmark State Bank and Fowler State Bank in Kansas along with Grinnell State Bank, Treynor State Bank, Farmers State Bank and Fort Madison Bank & Trust Co. all operating in Iowa. WebEquity has also welcomed Utah's Brighton Bank and City National Bank of New Jersey among others.
"Beyond the capabilities of the WebEquity solution, we were impressed with the Company's ability to tangibly envision the most effective path we can take to streamline commercial lending practices and best deploy human capital to support the bank's longer term goals," said Kevin Forristall, risk manager, Treynor State Bank. "We have the uptmost confidence in WebEquity as a leading solutions innovator that is well attuned to the evolving credit environment and what tools lenders need to make prudent and more profitable loan decisions."
"We couldn't be more pleased with the reception we've had among ICBA banks in such a short time," said Doug McGregor, CEO, WebEquity Solutions. "Upon becoming an ICBA PSP, we held a series of Webinars that demonstrated how our on-demand platform could enable members to measurably improve asset quality and credit risk management—and seeing was believing. We look forward to helping these new customers derive the greatest value from our software and get 'up and running' quickly to standardize complex credit analysis, enhance risk management and drive efficiencies."
To access a recording of WebEquity's Introductory Webinar for ICBA Members, click http://www.webequitysolutions.com/ICBAwebinar/index.asp.
About WebEquity Solutions
WebEquity® is the proven leader in on-demand lending software. More than 670 financial institutions and 10,000 lending professionals use WebEquity to automate and streamline their lending process and reduce operational costs, while making more uniform and profitable credit decisions. The company offers financial institutions a distinct advantage with a single solution that works for all loan types, an on-demand model that provides centralized, anywhere access, and the flexibility to configure the system so it fits their lending practices. WebEquity serves institutions in the U.S., Canada and Australia. For more information call 800.264.0787 or visit http://www.webequitysolutions.com.
# # #