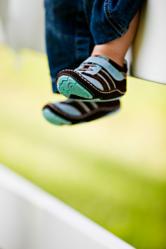 "...I'm loving our first pair of Rileyroos. Our child's balance has improved and confidence skyrocketed. She loves them, in fact she races to put them on each morning!" THANKS! -SB
Baltimore, MD (PRWEB) June 29, 2011
Popular, soft-soled, infant footwear line Rileyroos announces its Fall/Winter 2011 line. Embrace the richness and splendor of the fall season with Rileyroos! In addition to favorites from the past, this season is highlighted by new styles Jordan and Gabriella and new fabrics and colors to some of its most popular styles.
Rileyroos has expanded their ever-popular line of sneakers with the introductions of the Jordan, a high-top shoes offered in Rockstar, soft black leather and Rootbeer, brown suede.
The Gabriella has already become an early favorite for fall fashion. The style is crafted of soft leather with accent stitching and a flower on top. It is available in Flora, brown with hot pink accents and Rose, coral with light pink accents.
Rileyroos jazzed up its Mary Jane line, adding three festive styles that are sure to please. Houndstooth, black and white wool, Mist, grey wool with black accents and Fucshia, hot pink patent leather, an adorable show stopper and all are sure to be the talk of the table this holiday!
Several favorite styles now offered in new colors and fabrics for fall include the Carley in Coal, soft black leather with criss-cross straps and a floral accent; Brooks in Cinnamon, made of brown suede and leather sneaker; the Elisabeth in Spice, brown suede with light pink accents; and the Jakester in Cobalt, navy blue leather with baseball style offset stitching.
Whether it is back to pre-school or festive wear, Rileyroos has stylish and developmentally friendly footwear for infants and toddlers. Rileyroos continues to expand the offerings in their newest soft-soled crib shoe (0-3 months) with five great styles available. They include the, Brooks in Sail, Carley in Blush, Coal, and Cloud, and Quinn in Walnut.
Rileyroos offers fifty-three styles of infant and toddler footwear made of high quality, child-safe materials that are great for little growing feet. All shoes are packaged in a gift-ready box made of 100% recycled paper. Rileyroos extends the hand of friendship through their donations of thousands of pairs of shoes to global and local organizations in the communities where their footwear is sold, most notably, In Ian's Boots and Soles4Souls. Click here to learn more about Rileyroos.
About Rileyroos, LLC
As parents of three little ones, we dreamt of the idea of Rileyroos footwear after being frustrated with the lack of stylish and developmentally friendly shoe choices. We created Rileyroos with a focus on style, comfort, and ease, which we think is most important for little growing feet. The lightweight construction imitates barefoot walking and the protective bottoms provide traction to prevent falls on slippery surfaces. The sole of a Rileyroos shoe curls above the toes to provide leverage as little ones make their natural gravitation from sitting to crawling to walking. Shoes are made with high quality, child-safe materials and packaged in a box made from 100% recycled paper. Rileyroos shoes are available in about 700 stores in 20 different countries.
To access our electronic media kit, obtain product samples, or gather more information about Rileyroos please click here to contact us by email or call us at 877.455.ROOS (7667).
###