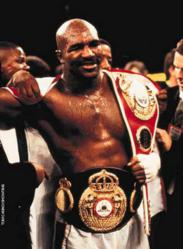 Las Vegas, NV (PRWEB) June 28, 2011
Content Leaders ENVY Digital Entertainment (EDE) and Pretty Dangerous Films (PDF) announced today its partnership with The Holyfield Company, LLC. The partnership will create premium programming to be distributed across cable and digital platforms.
EDE and PDF currently have several properties in development for Evander. "We are proud to partner with Evander Holyfield to bring his successful brand to the next level. We are all very excited to be working with Evander and his camp to provide content that will entertain and excite his fans. Evander is a first class athlete and has demonstrated his business savvy by building a successful brand. We look forward to a long relationship with the Former Heavyweight Champion of the World. This partnership is exactly the type of programming that we look to develop for our XLR8 Sports Network." said J.D. Albano EDE's Head of Business Development.
ABOUT ENVY DIGITAL ENTERTAINMENT
ENVY Digital Entertainment (EDE) is a leader in traditional & digital entertainment. EDE distributes and produces both long and short-form video programming targeted at male 18-49 audiences, with simultaneous distribution over broadcast, cable, broadband, and wireless platforms. EDE supplies marketers and viewers an enhanced video experience across all platforms.
###