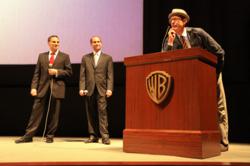 "What a dream come true these past ten years have been." - Campus MovieFest Co-founder, David Roemer.
Hollywood, CA (PRWEB) June 28, 2011
Campus MovieFest (CMF), the world's largest student film festival, announced today the 2011 International Grand Finale festival winners. Young filmmakers from over 75 universities along with their families, friends, and industry execs, joined Campus MovieFest in Hollywood, California, to celebrate the 10th anniversary of providing students with the technology and support needed to create their own five-minute short films in one week.
Beginning on Thursday, June 23, and running through Sunday, June 26, the festival hosted over 200 student short films on the Universal Studios lot; the first ever 3D student film festival in partnership with Panasonic and the International 3D Society; workshops and Q&A sessions with industry panelists; one-on-one meetings; advance screenings of "Cars 2," "Horrible Bosses" and "Winnie the Pooh"; College Battle of the Bands national finale; and a star-studded red carpet awards show in the Stephen J. Ross Theater at Warner Bros.
"Wow," was just about all Campus MovieFest Co-founder David Roemer was able to utter after the weekend. A bit later, he added, "When we started Campus MovieFest as students in 2001, we 'borrowed' a clip of Jeff Goldblum for our promotional video. Last night, when he walked out on stage to start the show and the crowd erupted, only to be followed by 17 other spectacular presenters and remarkable student recipients, we realized what a dream come true these past ten years have been."
Special presenters included: Jeff Goldblum (Jurassic Park), David Arquette (Scream), Jack McBrayer (30 Rock), Gabourey Sidibe (Precious), John Cho (Harold & Kumar), Elizabeth Banks (Zack & Miri Make a Porno), Kate Mara (127 Hours), Wes Bentley (American Beauty, Hunger Games), Chris Parnell (Saturday Night Live), Max Minghella (The Social Network), Missi Pyle (Charlie and the Chocolate Factory), James Remar (Dexter), Rob Corddry (The Daily Show), T.J. Miller (She's Out of My League), Derek Waters (Hall Pass), Colin Ford (We Bought a Zoo), Scott Porter (Friday Night Lights) and Alice Eve (She's Out of My League).
"We've been constantly blown away by the student creativity and talent, and this year's International Grand Finale celebrated the best of our best student movies. The CMF Best Picture Winner, 'Tick Tock', along with all the other top films, truly shows the power of video to captivate audiences worldwide," said Dan Costa, Co-founder of Campus MovieFest.
This year's Campus MovieFest International Grand Finale winners are:
Best Picture – "Tick Tock" – Emory University – Directed by Ien Chi
Best Comedy – "Couples Therapy" – University of California, Los Angeles – Directed by Jeff Bourg and Mark Lester
Best Drama – "My Ketchup Smiles" – New York University – Directed by Eliza McNitt
Special Category Winners are:
Rethink Possible Award – "FunMachine" – University of Central Florida – Directed by Joshua Ingle and Reid Nicewonder - $5,000 plus future support for their filmmaking careers
Elfenworks Social Justice Awards – "Blind Eye" – University of South Florida - Directed by Chris Stevens – $10,000 (1st place), "100 Strong" – San Diego State University - Directed by Joseph Moore - $2,500 (2nd place), "Take the Hit" – University of California, Berkeley - Directed by Olivia Grant-Esterhuysen, and "The Busker" – Rutgers University - Directed by Albert Lee - $1,250 each (3rd place tie)
CMF 3D Awards: "Portrait of the Storm:Tuscaloosa, AL" – The University of Alabama - Directed by Xavier Burgin (1st Place, $5,000), "Trust No One" – New York University - Directed by Matt Lincoln (Runner up, $1,000)
Poo Industries Lifetime Achievement Award: Bright Cat Films – Indiana University
Golden Tripod Awards: "Unattainable: A Ninja Story" – Bridgewater State University (Best Cinematography), "The Revolutionary" North Carolina State University (Best Editing), "Tick Tock" (Best Director), "FunMachine" (Best Soundtrack), "Couples Therapy" (Best Story), Brennan Cook – "Daisies for Jessica" – San Francisco State University (Best Actor), Samantha Strelitz – My Ketchup Smiles (Best Actress)
"I actually felt a great sense of calm, which is surprising because I thought I'd be really nervous," said Ien Chen, director of "Tick Tock", the CMF Best Picture winner. "At that point, I really didn't mind if our movie lost or won. Just experiencing all of CMF and the fantastic awards ceremony was enough for me. And with "Tick Tock" having gone so far online and beyond already, I would have been satisfied if we didn't win anything at all. Actually that's not true. I would have been a teensy bit disappointed, haha."
"When I heard my name a weight lifted off me," recalls Xavier Burgin, director of "Portrait of the Storm", the CMF 3D winning film, adding, "then an even heavier [one] fell on my head when I realized I had to speak in front of the entire crowd, but I got through it. I felt terrified yet uplifted, as if everything I had done was now validated."
Winners were awarded over $400,000 in prizes including cash grants, scholarships, Panasonic and Apple products, and more during the 2010-2011 Campus MovieFest World Tour. Over 75,000 students were provided with Apple laptops, Panasonic camcorders, and training to make short movies all for free. The winners from each campus event were invited to the CMF International Grand Finale.
2011 CMF International Grand Finale Highlights and Anecdotes:

Best picture winner, "Tick Tock" has received nearly 1 million hits on YouTube.
Winners from the first Campus MovieFest Mexico tour attended the International Grand Finale.
3D Winner "Picture of the Perfect Storm" filmmaker's original story idea was derailed by the storm in Tuscaloosa.
Rethink Possible winners ("FunMachine") are developing their first feature film.
The winning short films will be featured in-flight on Virgin America.
Other highlights throughout the weekend included industry workshops with presenters including McG (moderated by partner Entertainment Weekly), James Van Der Beek, Melissa Rosenberg, Christopher Markus and Stephen McFeely, Thomas Ackerman A.S.C., and many more
Partners of the 2011 Campus MovieFest International Grand Finale include: Panasonic, the International 3D Society, The Elfenworks Foundation, American Film Institute, and Entertainment Weekly, in addition to advance screenings and studio lot events with Universal Pictures, Warner Bros, and Disney.
About Campus MovieFest:
CMF began ten years ago when four students at Emory University provided fellow students with everything they needed to make movies in one week. Since then, nearly 500,000 students have told their stories on the big screen, receiving all the necessary technology and training for free thanks to corporate partners and schools. Past winners have walked away with over $2 million in prizes and seen their films on the big screens at CMF events nationwide, at the prestigious Cannes Film Festival Short Film Corner, and on millions of smaller screens – including AT&T mobile devices, in-flight on Virgin America, and online. For more information about Campus MovieFest or to see the best CMF movies, visit our website (campusmoviefest.com).
Editor's Note
All films, including winning films, can be viewed on our website. Please visit the IGf Press Room (campusmoviefest.com/igf/press) for more information on this year's participants, films & winners.
# # #