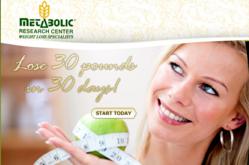 Losing 45 pounds has changed my appearance, increased my self esteem, improved my health and greatly increased my energy! ~ Sarah
Jacksonville, FL (PRWEB) June 28, 2011
Metabolic Research Centers, weight loss specialists for more than 25 years, recently launched its new website at http://www.emetabolic.com. Designed and hosted by Jacksonville's AppSoft Development, the new website is a comprehensive overview of Metabolic Research Centers' (MRC) services in weight loss and health maintenance.
With 75 weight loss clinics nationwide, MRC specializes in tailored programs for individuals based on medical history, eating habits and lifestyle. Various programs developed by board certified physicians and registered dieticians focus on issues such as natural hormone rebalancing for adults and safe weight loss for children. Each of these programs can be customized to the client's unique needs and goals:

MetaSlim® Weight Loss Program: An aggressive weight loss program that follows the American Dietetic Association and Recommended Dietary Allowances guidelines with a slightly higher consumption of protein.
Body In Balance® Weight Loss Program: Personalized guidance for natural hormone rebalancing using selected natural supplements and formulations of bioidentical hormones.
Menus Made Easy® Weight Loss Program: Menus are designed specifically for you by our registered dietician and tailored to meet your individual needs. Foods are selected according to your weight loss goals, medical necessities (allergies, lactose intolerance, etc.) and even faith restrictions.
MetaKidz® Weight Loss Program: Designed to educate both children and their families about healthy lifestyle changes for overweight children ages 5 to 17.
Emetabolic.com features mouth-watering recipes designed to help you slim down without sacrificing taste. A few highlights: a cool, crisp strawberry spinach salad; roasted asparagus flavored with fresh rosemary, sea salt and ground black pepper; and a little something you might not expect to see on a weight loss site - chocolate cherry cooler or waffles supreme made with vanilla crème pudding. And an online store featuring MRC's patented supplements is coming soon.
About Metabolic Research Centers: MRC is a holistic weight loss and life management program with 75 locations in 19 states. Developed by board certified physicians and registered dieticians, MRC programs are nutritionally sound, research based and designed for long term weight-loss success.
About AppSoft Development: AppSoft Development / AppSoft Web Design Jacksonville is a professional website design, search engine optimization & hosting company serving clients nationwide. http://www.appsoftwebdesign.com
For more information visit http://www.emetabolic.com and contact MRC at 800-501-8090.
###