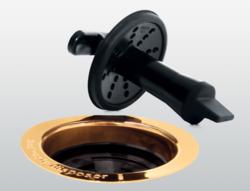 Promoting kitchen safety is now easier than changing a light bulb.
Elk Grove Village, IL (PRWEB) June 27, 2011
Cutting veggies and one falls on the floor? Throw it in the sink. Stirring batter and you're done with the spoon? Throw it in the sink. We don't even think twice before we do it, but when it's time to turn the garbage disposal on there's suddenly a hodgepodge of items in the sink. A quick glance might overlook the spoon, and now you have a nicked utensil and possibly a damaged disposal.
This inspired T.J. Dombrowski. Not only can these objects damage a disposal, but it's easy for fingers, long hair and loose clothing to get caught, potentially resulting in injuries. Although constant personal reminders and teaching children otherwise, it can be easier than that. Says Dombrowski, "There weren't the right garbage disposal accessories out there. I made it my goal to prevent injuries due to garbage disposals. Every day that went by without a proper drain cover was another day that something terrible could happen." Fortunately, Dombrowski saw his inspiration through. DISPOSE-IT-GUARD by Disposal Guard Inc. is a heavy duty stopper/strainer that is used in place of a garbage disposal stopper. But it's more than just a stopper – DISPOSE-IT-GUARD is a stopper, strainer, safety poker and scraper all in one! A simple twist of the uniquely designed T-handle opens or closes the strainer, while the plunger is designed to avoid all contact with the garbage disposal blades even while it's running. Just stick it in the disposal, and it's ready to go.
DISPOSE-IT-GUARD is 100% made in America and after two years of product testing, Disposal Guard Inc. and T.J. Dombrowski himself proudly and confidently stand behind their quality product. DISPOSE-IT-GUARD is available to purchase on DisposalGuard.com, Amazon.com and select home and hardware stores nationwide.
MSRP $16.95
About Disposal Guard Inc:
Safety & Convenience Made Simple®. Disposal Guard Inc. is based in Elk Grove Village, IL. The DISPOSE-IT-GUARD all-in-one sink stopper, strainer, safety poker and the scraper is 100% manufactured in the US. For more information please visit http://www.DisposalGuard.com.
###