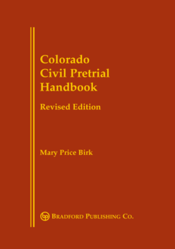 Denver, CO (PRWEB) June 30, 2011
The "Colorado Civil Pretrial Handbook" is written by Denver attorney, Mary Price Birk. Ms. Birk carefully analyzes the requirements of the Colorado Rules of Civil Procedure, along with other relevant legal authorities, and provides helpful tips on practice and strategy that she developed in her own practice. She has provided practitioner's a guide to navigating the entire civil pretrial process, from initial client contact through trial.
In addition to explaining the basics, Ms. Birk points out discrepancies and possible traps for the practitioner to avoid. Thus, this book is a valuable tool for all civil practitioners—everyone from young lawyers just starting out to seasoned practitioners in need of a comprehensive guide. This comprehensive yet concise handbook also includes the forms needed at every stage of the pretrial process. Nearly 100 forms are provided—from retainer agreements to trial management orders.
The revised edition includes updated statutory and case law, updated forms and new discussions on topics such as: performing a conflict of interest check; ex parte communications with current or former employees of a company; when fees and costs can be awarded upon dismissal of a case; attorney liability for referrals to other attorneys; claim preclusion and issue preclusion; exhaustion of administrative remedies; offers of settlement, defending against a default judgment; the pretrial timeline for cases proceeding under Rule 16; protecting draft reports of expert witnesses; and handling inadvertent disclosure of privileged or work-product-protected documents.
About Bradford Publishing Co.
Founded in 1881, Bradford Publishing Company is Colorado's oldest and most trusted publisher of legal information, including legal forms, electronic legal forms, law books, and statutes. Located in Denver's historic LoDo district, Bradford Publishing provides legal forms and reference materials on a variety of legal topics for attorneys, other professionals, and consumers.
Our commitment to quality is the cornerstone of Bradford's business philosophy and we regularly update the content of our books and other publications, so you can rely on the most accurate and current information available.
###