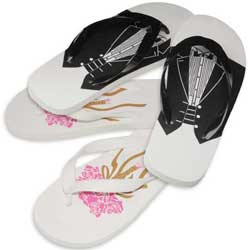 Essex, CT (PRWEB) June 29, 2011
Wedding season is in full swing and for those planning summer nuptials planning time is getting down to the wire. Of course the venue, flowers, music, rings, dress and tux are among the first priorities but what about the party favors? Traditionally, couples leave gifts or favors for their guests at their seats to help them remember their special day by. Custom imprinted, unique and fun gifts are among the biggest trends for weddings these days. 4AllPromos, a leading custom imprinting company in Connecticut, is on the pulse of what is most popular this wedding season and suggests couples stick to timeless, fun or practical gifts to help make their special day memorable.
Planning an elegant wedding? ? For those with a comfortable budget looking for a high-end and classic favors, timeless items that guests can continue to use over and over again are a good choice. Picture frames make great gifts. Engrave the bride and grooms names, wedding date or a meaningful quote into a frame. Have the wedding photographer take candid photos of guests and make them available for purchase or give them as gifts after the wedding. Some couples even set up a photo booth at the reception so guests can take home pictures from the reception. Another timeless item to consider is custom imprinted glassware such as champagne flutes, wine or pint glasses. Help guests raise a toast time and time again with custom imprinted glasses. Another unique yet timeless gift is a sterling silver key chain. Key chains are handy items to have around the house and a nice silver key chain is classic, durable and useful. Get a custom shaped medallion or have the key chain engraved to add a special touch. The product specialists at 4AllPromos are available via phone and online to help brides and grooms select the right elegant wedding gifts and accessories.
Outdoor weddings are often more relaxed and low key. There are unlimited options for fun and creative favors for beach or destinations weddings. These types of ceremonies or receptions call for fun toys that guests can break out at the event. Custom imprinted beach balls and Frisbees are good for beach or backyard receptions. Keep guests cool during summer ceremony with hand fans imprinted with a photo of the lucky couple, their names and/or the date of the wedding. Stadium cushions can help decorate a casual outdoor reception. If there are going to be a lot of children at the ceremony, yo-yos and wacky toys are good ways to keep them occupied while their parents celebrate. Keep adults busy with playing cards with your names or faces on them.
Get creative with your favors if you are having an unconventional wedding. 'Green' couples may want to consider reusable gifts such as tote bags, water bottles or recycled stationary. Wacky or fun gifts are a great reflection of the couple's personality and guests will enjoy the thought put into them.
For the practical couple there are many more logical gifts to give away at the reception besides games and regal stemware. Give guests snack to take home such as chocolate, cookies or even popcorn with custom imprinted packaging. Flip flops are great for the dance floor. Or, just keep it simple with a nice pen and notepad as that will not go to waste.
When ordering custom imprinted or unique wedding favors it's important to consider the budget, turnaround time and the quantity of the order to ensure you receive the items in time for the special day. Visit 4AllPromos.com for more information about wedding gift ideas and other custom imprinted items including magnets for Save the Date reminders, custom imprinted napkins, apparel and many other items for any kind of special event. Happy wedding season!
###