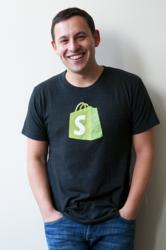 For our 5-year anniversary we wanted to do something that demonstrated our passion for entrepreneurship, and our commitment to helping those with limited access to resources. When we learned about the Acumen Fund, we knew we found the perfect partner.
Ottawa, Ontario (PRWEB) June 29, 2011
On the heels of kicking off the second annual $500K Build-A–Business Contest, which aims to inspire entrepreneurs to start an online business, Shopify, the online SaaS e-commerce shopping cart, is furthering its commitment to entrepreneurship with a $100,000 donation to Acumen Fund. The not-for-profit venture fund that addresses poverty in South Asia and East Africa will use the donation to support pioneering entrepreneurs who are focused on providing critical goods and services such as water, healthcare, housing, and energy to the poor in their native countries.
Shopify is making the $100,000 donation to Acumen Fund in honor of its 16,000 customers that have built online businesses with Shopify's e-commerce platform over the past five years. From DODOcase – last year's Build-A-Business contest winner – to General Electric, companies large and small have come to rely on Shopify to power their online stores. This is exemplified in several key milestones the company recently hit:

$124,000,000 in total GMV in 2010
$95,000,000 in total GMV in the first half of 2011
Tens of millions of transactions conducted via Shopify's e-commerce platform
16,000 stores powered by Shopify with millions of customers
79 countries around the world are home to Shopify-powered stores
With this donation, Shopify hopes to fuel the same level of success for entrepreneurs working with Acumen Fund where Seth Godin, Shopify's Build-A-Business expert is an advisor. The funds will go towards Acumen Fund's Energy Portfolio, which supports innovative enterprises providing affordable, efficient and renewable energy solutions to the poor.
About Shopify
Shopify is an online SaaS e-commerce platform that allows individuals to create beautiful online stores. The platform currently hosts over 16,000 online retailers, including: Angry Birds, Amnesty International, General Electric, Tesla Motors, Foo Fighters, Beastie Boys, and Evisu Jeans. Shopify was founded in 2006 by two snowboarding enthusiasts who wanted to create a better way to sell their snowboards online. Located in Ottawa, Canada, Shopify has over 60 employees. On December 12, 2010, Shopify announced the acquisition of $7 million in Series A funding from Bessemer Venture Partners, FirstMark Capital, and Felicis Ventures.
###