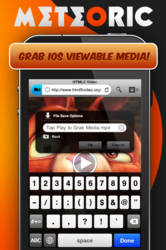 Grabs more than just your Attention
Dallas, TX (PRWEB) June 30, 2011
Meteoric Download Manager for iOS is amazingly fast, feature rich and has a stunning UI. Top Ten reasons to grab it.
1. Media Grabber - Meteoric can intercept & grab almost all iOS playable media.
2. Custom API's - Custom built API's of Digital Poke allows long tapping on tables, dynamic drop downs, extended feature sets which enables an advanced yet simply clutter-less interface.
3. Insanely Powerful Download Manager - Accelerate downloads (when supported), queue, pause, resume, fetch file name from server response and real time information of the file.
4. Robust File Manager - Meteoric consist of a File Manager which does more than just normal operations. Zip folders, unzip/unrar files, restore user's time capsuled bookmarks and play any iOS supported files in file preview along with airplay support for media files.
5. Firefox Sync - Meteoric is the only download Manager that supports Firefox Sync. Meteoric can sync user's desktop open tabs, bookmarks and history.
6. Dropbox Integration - Meteoric has dropbox integration which allows users to upload their downloaded files to their dropbox account via File Manager.
7. Media Player - Media Player comes inbuilt in Meteoric which lets user play mp3 files store inside Meteoric, form play-list along with background audio support.
8. Magic Bar - Magic Bar allows users to instantly view their bookmarks / add bookmarks via a toggle-able bookmark bar which can be executed by pulling the web page down and releasing it.
9. Plugins - Plugins are short snippets of code which allows Meteoric to extend its functionality.
10. Live Streaming - Just create a Web Server via downloads module and stream all the files to any device, computer, etc. The only requirement is a same Wi-fi network and a browser-enabled device.
Meteoric App Store Link
Meteoric HD App Store Link
###