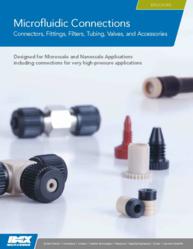 This resource helps bring things into focus, clearly presenting the options for small-scale fittings, connectors, and tubing.
(PRWEB) June 28, 2011
This new brochure features IDEX Health & Science's Upchurch Scientific® products specifically designed to simplify micro- and nanoscale applications, including Lab-on-a-Chip, Microbore HPLC , CEC and UHPLC — as well as components for interfacing hyphenated systems such as LC-MS and GC-MS. It also features fittings and sleeves to facilitate fused silica and other capillary tubing connections, along with a variety of accessories designed for microscopic flow rates.
"Navigating all the options for making quality connections in microbore and nanobore applications can be a daunting task," says IDEX Health & Science technical expert John Batts. "This resource helps bring things into focus, clearly presenting the options for fittings, connectors, tubing and accessories that have been designed specifically for the unique challenges and requirements of smaller-scale techniques."
The Microfluidics Connections Brochure is available now as a downloadable PDF from the IDEX Health & Science website.
About IDEX Health & Science LLC
IDEX Health & Science LLC designs, develops, and manufactures liquid subassemblies and precision components for a wide range of applications requiring precise control and measurement. Specializing in component integration that results in innovative and optimized OEM fluidic systems, IDEX Health & Science is the synthesis of leading component and technology suppliers to the Analytical Instrument, In Vitro Diagnostics, and Biotechnology markets. Product range includes: Eastern Plastics manifolds and precision plastic parts; Innovadyne automated liquid handling systems; Ismatec peristaltic pumps and advanced microprocessor controllers and drives; Isolation Technologies column hardware; Rheodyne fluidic valves; Sapphire Engineering precision dispense pumps and HPLC components; Systec degassers/debubblers; and Upchurch Scientific tubing, fittings, and customized assemblies.
###