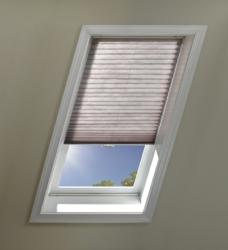 Castle Rock, CO (PRWEB) June 29, 2011
Shades Shutters Blinds is now offering New Discount Pleated Skylights, a great opportunity to give your room a fresh look from a roof level dressing with style top angled windows, which are also an important part of your home decor.
Leader in window coverings, Shades Shutters Blinds counts with a wide array of shades, shutters, blinds and window coverings for every budget, cash back rebates on selected products and, this time. New Discount Pleated Skylights!
Pleated Skylights are available in different colors, either from the light filtering or blackout fabric collection, so it is rally easy suit any interior design. Shades Shutters Blinds offers free color and material samples, so you can see yourself what you will be paying for.
Shades Shutters Blinds offers secure and safe shopping, free standard shipping, and toll-free customer service, besides online information for all its products. This help guides you through the whole process from ordering to installing any your product, although you are always welcome to request over the phone support calling anytime you need a windows covering expert providing you with personal assistance in any specific matter.
A solid knowledge in the Window Coverings Industry and the experience of ten years serving orders from your next door's neighbor to the White House, make the New Discount Pleated Skylights offer brought by Shades Shutters Blinds an ideal opportunity to take home more than just a decorative element; a real solution for the often forgotten roof's high windows.
About Shades Shutters Blinds
Shades Shutters Blinds is a company based in Castle Rock, a Front Range Urban Corridor in the south of Denver. This company sells blinds online since 2001, and is member of the Denver/Boulder Better Business Bureau. Well known for its affordable, quality and custom services. Shades Shutters Blinds delivers nationwide with no sales tax in 49 States.
###