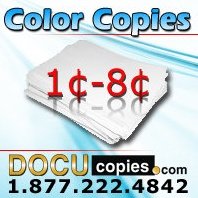 "The social revolution is changing the way companies market themselves."
Hudson, Wisconsin (PRWEB) June 28, 2011
The online color copying and printing company Docucopies.com today announced a sweepstakes designed to engage their current and prospective customers through social media. The winner will receive a brand-new 8-gigabyte iPod Touch, a popular model from Apple's iconic line of MP3 players.
This is the first step in a campaign the company is launching to expand their social circle, including networking on sites such as Facebook, Twitter and LinkedIn.
Marketing Director Jeff Corbo sees social networking as a crucial element in the new frontier of online marketing, as do many others in the field.
"The social revolution is changing the way companies market themselves," says Corbo. "Offering your clients something of actual value through social channels, instead of just self-promotion and marketing gimmicks, engages them with your brand in ways that weren't possible five years ago."
As part of this push, Docucopies is now using social media to inform, entertain and assist their customers. Content will include topics such as layout and design tips, marketing tips, product comparisons, deal hunting, and social networking and marketing, as well as links to third-party articles relating to their industry and products.
The rules and directions for entering the sweepstakes can be found on the company's website. A winner will be chosen randomly from the company's social circle on Friday, July 29. The winner will be contacted by Docucopies and announced on the website.
For more information on the iPod Giveaway Sweepstakes, visit Docucopies online at http://www.Docucopies.com. You can "Like" them on Facebook, follow them on Twitter, or network via LinkedIn.
###