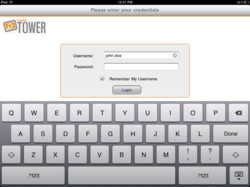 We wanted every component to be intuitive- simple to learn and manage.
Nashville, TN (PRWEB) June 28, 2011
The adoption rate of educators using Apple iPads continues to show amazing growth. So are the uses for iPads within a school setting. While most companies are creating uses for the iPad as a teaching tool, RANDA Solutions has chosen to focus on innovations for education administrators.
The first, and most striking, innovations use iPads and Android devices for field observations and walkthoughs. "We are not a content company- we're innovators. So simply developing another tool to distribute classroom content or PD didn't particularly interest us," says Marty Reed, CEO of RANDA Solutions. "What excited us was innovative ways to reduce the hassles of gross systemic inefficiencies for educators- that really grabbed our attention." Reed spent the following months imagining how to improve the collection, management and reporting on data to help improve teacher effectiveness.
This was not entirely new ground for Reed and his firm. RANDA's specializations have been managing large-scale transactional data for federal agencies and data aggregation, management and reporting for state-level public education. Now Reed was focusing on to solve data problems for local education authorities. His team met with districts to forge a solution with educators for educators.
Ironically, nine months later the solution will be delivered nationally in a matter of weeks as RANDA's TOWER System and TOWER Mobile (Teacher Observation, Walkthrough, Evaluation and Reporting). Reed's work on this project has spawned two patents pending, pilot studies in numerous school systems using thirty-seven combinations of rubrics and walkthroughs with over 5,000 teachers observed.
"There are so many innovations in TOWER," Reed continues. "It wasn't enough to be paperless. It wasn't enough to automate tasks. We wanted every component to be intuitive- simple to learn and manage." Further, he envisioned a system without boundaries in terms of rubrics. "We let the clients supply their own rubrics and walkthroughs, rather than imposing any limited set. We have no agenda to sell professional development content- so we are utterly neutral. We only seek to inform conversations to help administrators and teachers improve performance." Consequently, pre-release TOWER clients over recent months not only include various states, but several countries around the globe. Lastly, the limitations of many schools' wireless networks needed to be addressed in the first pilots. The RANDA team developed their mobile applications to perform synchronization functions with the main system to circumvent the need for 100% Wi-fi coverage.
Beyond the July 2011 rollout, Reed is gratified components of RANDA's solutions were eagerly adopted by districts in his home state. "Tennessee is not merely a winner of Race to the Top funding- it's a leader in longitudinal data and new standards for teacher observation. We're excited districts like Wilson County Schools, Trousdale County Schools, and one of the largest systems in the nation have embraced the TOWER solution."
Inquiring educators can see a brief video on RANDA and TOWER on YouTube.
ABOUT RANDA
RANDA Solutions is an INC. 500 software firm based in Nashville, TN serving the education sector. RANDA's tools for administrators and teachers aggregate and manage many types of education intelligence including standardized testing results, formative assessments, teacher evaluations and demographics. Historical and live data reporting, along with additional customized content, is delivered via RANDA's Homeroom secure web portal and integrates seamlessly. Information on RANDA can be found at http://www.randasolutions.com.
###