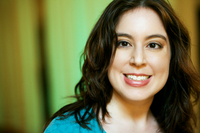 This open chat is for marketers who want to build long-term relationships with customers rather than go after a quick sale.
Toronto, ON (PRWEB) June 29, 2011
Rachel Foster of Fresh Perspective Copywriting invites business-to-business (B2B) marketers to join her for a live Twitter chat on Monday, July 4, 2011, at 8:00 p.m. Eastern. The open dialogue will explore how to create content that turns fans and followers into sales leads.
Marketers want to learn more about using social channels for lead generation. A recent study by FUSION b2b stated that 96.9% of B2B marketers plan to increase their use of social channels this year. Meanwhile, the 2011 Social Media Marketing Industry Report revealed that one of marketers' top questions about going social is "What are the best ways to sell with social media?"
"Many companies try to use social networks as another direct marketing channel," says Rachel Foster, Owner of Fresh Perspective Copywriting. "However, this approach can backfire and cause you to lose your community. This open chat is for marketers who want to build long-term relationships with customers rather than go after a quick sale."
The Social CMO is hosting this event as part of their weekly Marketer Monday chat series.
To join the dialogue, participants should log in to Twitter and search for the #MMChat hashtag. This will show them everyone who is part of the conversation. If they have questions or comments, they should add the #MMChat hashtag to their tweets, and the other participants will be able to see and respond to them.
To receive email notifications before the chat and when the transcript is available, click here and complete the form at the bottom of the page.
About Rachel Foster and Fresh Perspective Copywriting
Rachel Foster is an award-winning B2B copywriter who helps technology marketers create content that drives action. She works with clients to skyrocket their online response rates, clearly communicate complex messages, fill their events and increase the opt-ins for their white papers and product demos. You can connect with Rachel on LinkedIn, follow her on Twitter @CopywriterTO or check out her Fresh Marketing blog and resources at http://www.copywritertoronto.com.
About the Social CMO
Founded in January 2010 by Jeff Ashcroft aka @TheSocialCMO, The Social CMO Crew is an informal consortium of like-minded and dynamic individuals who have embraced social media and the opportunity it represents for brand, advertising, PR, sales and marketing. Participating professionals regularly share their social experiences, successes and knowledge through their contributions to The Social CMO blog. Helen Keller's famous quote "Alone we can do so little; together we can do so much!" is the group's tagline and represents the spirit with which this group is moving forward to jointly create positive change as embodied in the group's upcoming "The Social CMO Book" to be released in fall 2011.
###