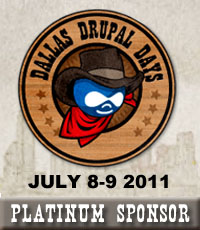 Jason Burnett, NeoSpire's Director of Infrastructure, will be presenting "Everything's Bigger in Texas - Designing Large/Enterprise-Level Drupal Environments."
Dallas, TX (PRWEB) June 28, 2011
NeoSpire, a mission-critical managed hosting company, today announced that it is providing Platinum Level sponsorship of Dallas Drupal Days. As part of the two day event, to be held July 8-9th at University of Texas at Dallas, School of Management, Jason Burnett, NeoSpire's Director of Infrastructure, will be presenting "Everything's Bigger in Texas—Designing Large/Enterprise-Level Drupal Environments."
"NeoSpire is proud to be able to support the efforts of individuals and companies in the Southwest who are contributing so much to the social Internet," said Jim Ciampaglio, Chief Operations Officer for NeoSpire. "Our Platinum Level sponsorship of the 2011 Dallas Drupal Days is a tangible way for us to help these professionals share their knowledge and experiences."
Friday will be the Drupal Summit, focusing on how Drupal is used in business and how it brings value to many types of organizations, including Enterprise, Startups, Non-Profits, and everything in between. Learn from case studies on successful Drupal implementations, and sessions on business strategy, implementation and SEO. Saturday will be the Drupal Camp, intended for sitebuilders, themers and developers. Expect sessions from beginner to expert level, with the sharpest minds in the Drupal world attending and presenting.
Burnett's one-hour presentation, part of the Drupal Camp developer track, is designed to help attendees understand the important details of a highly available Drupal Web environment. Drupal, a free, open source Content Management System (CMS), is used by thousands of high-profile organizations including The White House, Sony, Zappos, Lucas Arts, Warner Brothers, CNN, Walt Disney, the United Nations, and ICANN.
Burnett will be discussing essential Drupal success criteria including how to correctly design a Drupal presence and choosing the most appropriate supporting technologies. The presentation will cover potential points of failure; capacity planning; eAccelerator vs. APC; Squid vs. Varnish; NFS vs. GFS vs. file synchronization; and other topics.
To learn more about Dallas Drupal Days or to register for the conference, go to http://dallasdrupal.org/
About NeoSpire:
NeoSpire, Inc. is a premier provider of full-service, mission critical managed hosting solutions for organizations that demand 100% uptime. Since 1999, NeoSpire has been providing the infrastructure, security, expertise and customer-centric support required by clients that rely on Web sites and Web-based applications for critical business purposes. Visit http://www.neospire.net for more information. To schedule interviews, contact Joy Hays, Director of Marketing at (214) 292-8100, or via email at marketing(at)neospire(dot)net.
###