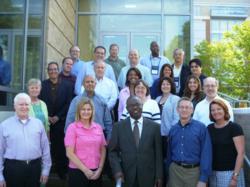 The Bridge Program is consistent with AACSB's efforts to ensure that there is a rich pipeline of qualified professionals, beyond business PhDs, who can bring their expertise to the classroom and educate effectively.
Tampa, Fla., USA (PRWEB) June 28, 2011
In today's world, seasoned business professionals possess the valuable insights and real-world experience students need to understand the rapidly changing environment. Yet the challenge for academia is how to effectively bridge this expertise to the classroom. Friday, May 27th marked the eleventh graduating class of an innovative solution–the AACSB Bridge Program.
Developed as a way to prepare industry experts for a career in the classroom, this intensive five-day workshop gives business executives an inside look into academia—helping them understand how to transfer their real-world knowledge to the next generation of business leaders.
The most recent AACSB Bridge Program, hosted by the George Mason University School of Management, graduated business professionals with significant experience in a variety of business and non-profit fields including accounting, auditing, education, energy and oil, entrepreneurship, finance, information technology, manufacturing, marketing, and risk management.
The May 2011 Bridge Program graduates are: Mary Jo Anderson, Gregg Arends, Abiodun Bankole, Ted Browning, Cristelia Hinojosa, James Ingham, Kevin Jones, Sergio Kapusta, Steve Lewis, Karen Mattison, Richard Minoff, Sheryl O'Loughlin, Nancy Osborne, Marlissa Phillips, Nick Pisalyaput, Susan Pretnar, Mary Beth Shagena, Michael Stewart, Donald Torrant, Thiti Vejpas, and Robert Zimmerman.
The program grew out of findings of the AACSB International report, Management Education at Risk, which revealed concerns about a dwindling number of PhD graduates. The program attempts to bridge the gap between faculty shortages at AACSB accredited business schools and increase the number of high-quality professors with significant, relevant business experience.
"The Bridge Program deals with one of the most fundamental challenges facing business schools today," said John J. Fernandes, president and chief executive officer of AACSB International. "The program is consistent with AACSB's efforts to ensure that there is a rich pipeline of qualified professionals, beyond business PhDs, who can bring their expertise to the classroom and educate effectively."
To be eligible for the program, applicants must have a master's degree and professional experience of significant duration and responsibility related to the area of teaching assignment. Individuals are carefully selected to ensure they will have a powerful impact in the classroom. Prior to enrollment, each applicant's experience is reviewed to ensure they meet the general requirements for a professionally qualified faculty member at an AACSB-accredited institution. As each business school has its own unique needs, graduates must apply to individual schools and each institution will assess how the specific experience and education meets those requirements.
For more information on the AACSB Bridge Program or its recent graduates, visit http://www.BridgeProgram.aacsb.edu.
About AACSB International
AACSB International (The Association to Advance Collegiate Schools of Business), founded in 1916, is an association of more than 1,200 educational institutions, businesses, and other organizations in 78 countries and territories. AACSB's mission is to advance quality management education worldwide through accreditation, thought leadership, and value-added services. As the premier accreditation body for institutions offering undergraduate, master's, and doctorate degrees in business and accounting, the association also conducts a wide array of conferences and seminar programs at locations throughout the world. AACSB's global headquarters is located in Tampa, Florida, USA and its Asia headquarters is located in Singapore.
For more information, please visit http://www.aacsb.edu.
# # #