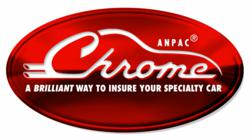 We want to make it easy and convenient for people to learn about CHROME.
Springfield, MO (PRWEB) June 29, 2011
CHROME specialty car insurance is now offering quick quotes for collector cars. CHROME, a product of American National Property And Casualty Company, recently launched its online quoting system for classic and specialty car insurance coverage.
Since a quote from CHROME specialty car insurance relies heavily on information about the vehicle, and car owners know their vehicles better than anyone else, the company wanted to devise a way for prospective clients to receive a quick quote online before proceeding to the next step of completing an application.
The quick, no-obligation quote takes into account the vehicle's condition, where it is garaged, the purposes for which it is driven, the year/make/model and the value, as well as the requested coverage limits. The information provided by the prospective client will return the estimated price for a 6-month policy term.
Car owners with collections of specialty vehicles may be eligible for the Multi-CHROME discount, which provides a significant savings based on the number of cars owned and insured in the CHROME program.
Once the online quote is completed, the prospective client will receive a reference number. If they decide to apply for coverage, all they have to do is call the ANPAC Client Service Center toll-free at 1.800.CAR.BUFF. Using the reference number, the Client Service Center will be able to utilize the information provided by the client to help guide them through the application process.
"We want to make it easy and convenient for people to learn about CHROME. We also offer a network of agents across the country for those who want to apply for coverage through a local representative," said Janet Clark, vice president of Underwriting. A complete list of American National agents, searchable by ZIP code, area code, state, city or name, is available through the ANPAC website.
CHROME is an acronym that stands for classic, hot rod, replica, original, modified and exotic vehicles. Special CHROME policy features include agreed value, annual mileage up to 10,000 miles (with an unlimited mileage option in many states), roadside service and towing options, choice of repair facilities, spare parts coverage, discounts for collectors who insure multiple specialty vehicles, endorsements for vehicles under construction and personalized service through local agents who offer a full line of insurance and related services.
American National Property And Casualty Company is headquartered in Springfield, Missouri. It is a subsidiary of American National Insurance Company (ANICO) of Galveston, Texas. American National Multiple Line exclusive agents offer a combination of life insurance, annuities, property and casualty insurance for personal lines, agri-business, targeted commercial exposures and other services. Multiple Line agents serve individuals, families and business owners. Go to anpac.com for more information.
This summary of coverages is not a statement of contract. Some coverages may not be available in all states. All coverages are subject to the exclusions, conditions, and requirements stated with the policy.
###