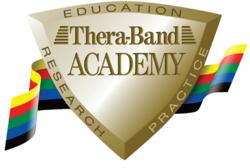 Registration to the Thera-Band Academy is free and provides access to the largest database of rehab exercises, protocols, research and education in the world.
Akron, OH (PRWEB) June 28, 2011
Subacromial shoulder impingement often responds well to therapeutic exercise, particularly when coupled with manual therapy(1). Injections and surgery are sometimes as good but are associated with higher risks. British researchers were interested in the added benefit of an injection with individualized physiotherapy exercises and manual therapy. 232 patients with subacromial impingement syndrome were randomly assigned to an exercise group or exercise combined with injection. All subjects received individualized exercise interventions as the physiotherapist chose from 6 mobilization techniques and 23 exercises including Thera-Band exercise bands. The exercise combined with injection group received a corticosteroid injection and avoided resistive exercises for the first 2 weeks of therapy. Download the physiotherapy protocol here.
The group receiving exercise with an injection significantly improved in their pain and disability in the short term (first 6 weeks); however, there were no significant differences between groups at 3 and 6 month follow-ups. The authors concluded that a corticosteroid injection is beneficial only if rapid pain relief is a priority, and up to 1/3 of patients will not respond to 12 weeks of exercise and manual therapy, possibly benefiting from a corticosteroid injection. This study supports the use of Thera-Band exercise bands combined with manual therapy in shoulder impingement patients.
About the Thera-Band Academy
The Thera-Band® Academy was formed to scientifically document the benefits of resistance exercise and pain relief, guide the company in its development of new product and exercise programs, and to promote therapeutic exercise and pain management through professional and consumer education. The Academy web site is a unique resource that connects healthcare professionals and consumers to the ever growing body of knowledge on exercise. Registration is free and provides access to the largest database of rehab exercises, protocols, research and education in the world.
About Performance Health
Performance Health is a leading designer, manufacturer and marketer of a broad portfolio of products for the therapy, rehabilitation, massage, wellness and consumer retail markets. Maker of market-leading Thera-Band®, Biofreeze® and Perform® products, Performance Health provides evidence-based protocols, education, turn-key dispensing and pain management solutions.
REFERENCE: Crawshaw DP, Helliwell PS, Hensor EM, Hay EM, Aldous SJ, Conaghan PG. Exercise therapy after corticosteroid injection for moderate to severe shoulder pain: large pragmatic randomised trial. BMJ. 2010 Jun 28;340:c3037.
(1) Bang & Deyle 2000 abstract: Bang MD, Deyle GD. Comparison of supervised exercise with and without manual physical therapy for patients with shoulder impingement syndrome
###