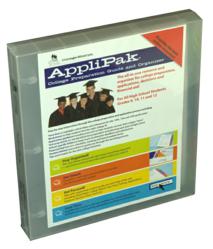 Milwaukee, WI (PRWEB) June 28, 2011
How involved should a parent be in the college planning process? According to a study by The College Board and Art & Science Group, the majority of students want their parents more involved in their search for colleges and college cost considerations. Over half of the respondents were happy with the level of involvement, but 28% of the remaining respondents actually wanted more involvement. Parents can assist their children in working through these life decisions with the new AppliPak® College Preparation Guide and Organizer. AppliPak contains worksheets that help students narrow their college choices based on preferences, interests and needs as well as detailed planning sheets to compare costs and financial aid between schools. Students and parents can work together through the entire preparation, selection, application and financial aid process with the tools and resources provided in AppliPak.
Many families rely on the high school counseling office to facilitate the college application process. However, the National Association for College Admissions Counseling reports that on average, the student-to-counselor ration is 457:1. With only 180 days in a school year, it's difficult for a counselor to provide detailed college planning assistance to students. AppliPak gives students the tools and resources to follow and manage the process themselves and make counselor meetings more productive.
"I saw a need for the do-it-yourselfer parents and students who feel they can get through the college planning maze without hiring a consultant," said Mitch Clark, owner of College Sherpa, an independent college planning consultant and author of AppliPak. "There are many questions and levels of anxiety about the process people have that I've addressed in AppliPak. I've also taken the experiences of my clients and incorporated them into the design of AppliPak. Organization is usually a big problem; even with all of the online resources, the process is still paper-heavy and families find having one place to store college planning materials very helpful. Every student, even siblings in a family, approaches college preparation and planning differently and AppliPak allows each student to use it however it fits their needs."
The US Census Bureau shows that approximately four million students will be entering high school as freshmen in the fall. And, according to the Bureau of Labor Statistics, in 2010, 68 percent of high school graduates went on to enroll in colleges or universities. Although the actual application for admissions doesn't typically happen until the senior year, college planning is a four-year process. The AppliPak not only provides a roadmap for each year of high school, but also provides worksheets and checklists to guide students through the many aspects of college planning. The information is contained in a durable plastic case binder that helps students keep all of their college planning information organized.
About AppliPak®
AppliPak ( http://www.applipak.com ) is the all-in-one resource and organizer designed to be used every year of high school for college preparation, SAT/ACT testing, college choice decisions, applications, financial aid and scholarships. Stay organized with one place to keep all your information regarding college planning; you'll know where to find it when you need it! Checklists, roadmaps and worksheets help you plan and stay on track with college preparation. AppliPak saves you time by providing the best resources on the web for testing, college applications, financial aid and scholarships.
Features:

Roadmaps, checklists and worksheets for every year of high school: 9, 10, 11, 12
Durable plastic pocket tabs to store college planning information and materials
Six school-specific pockets and application/financial aid tracking worksheets
Oversized durable 3-ring organizer with locking tabs
AppliPak is available online at http://www.applipak.com and at Amazon.com for $79.99.
Contact:
Mitch Clark
Executive Director
College Sherpa LLC
Phone: 262-389-9343
mitch.clark at collegesherpa.com
AppliPak is published by College Sherpa LLC. If you'd like more information about AppliPak, or to schedule and interview with Mitch Clark, please call him at 262-389-9343 or email at him at mitch.clark at collegesherpa.com.
###