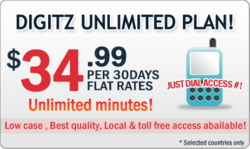 Digitz.com Unlimited International Calling Plan for cellular phone can save customers up to 60% from your cellular phone bill!
(PRWEB) June 29, 2011
Digitz.com is leading provider for unlimited international calling plan. Unlike other unlimited calling plans, Digitz.com service does not require VOIP equipment to purchase or any applications to make out calls and does not require internet to make a call. All calls are terminated with traditional fiber optic instead of internet to internet to ensure the best call quality possible. Digitz's international calling plan is designed for customers who make international calls from their cellular phone which can cost fortune. When using Digitz international calling card or unlimited international calling plan, customers can save over 50%-60% from international calls charged from cellular phone carriers.
Digitz offer Unlimited India, Unlimited China, Unlimited Mexico, Unlimited Asia, Unlimited Europe, Unlimited Brazil for $34.99/month.
Digitz is offering free $1 calling card for customers to test out quality of its services. Unlike other companies free offers, Digitz offer is free without any obligation, no billing info or any commitment is needed to get the trial free $1.
Digitz.com is affiliated with Android tablet pc manufacturer, Idolian Mobile,Inc. Digitz.com is leading 214 licensed international telecom carrier that terminates millions of calls to all over the world every month using only highest quality route that's available in the market. Since 2004, Digitz serving millions of customers in US that makes calls internationally.
Please viist http://www.Digitz.com for more information about the company and products and services it offers.
###