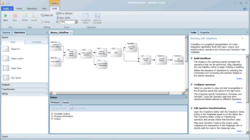 The new expressor extensibility framework allows us to easily map any external application data object such as a Salesforce.com contact to an expressor Semantic Type.

-Renat Khasanshyn, Founder and Chairman of Altoros Systems
Burlington, MA (PRWEB) June 29, 2011
expressor software, a leading provider of free and affordable data integration software, today announced the general availability of expressor 3.3, the third enhancement release of the expressor Data Integration Platform since the launch of expressor 3.0 in December 2010. expressor 3 is a new generation of data integration software designed to address many of the ease-of-use, data mapping, and cost challenges associated with traditional commercial and open source ETL solutions.
expressor 3.3 features a new extensibility framework that enables 3rd party developers, ISVs, and end-user organizations to build connectors to Web-service-based SaaS and cloud applications and to integrate expressor with in-house systems and applications. The expressor 3.3 extensibility framework includes several key product enhancements that further improve developer productivity and reuse:

New read and write custom operators enable expressor Datascript developers to build adapters for reading and writing data from/to custom data sources and Web services. The expressor 3.3 release includes a sample project that demonstrates use of the read custom operator to read personal contact records, using the Google Contacts Data API, which are then bulk loaded into Saleforce.com.
The new extensibility framework delivers the platform foundation for creating packaged operators (connectors) to a wide range of new data sources and targets via function calls to Java and other language programs, Web services, and FTP.

A new Datascript module design artifact makes it easy for users to keep track of their user-written functions and incorporate them into dataflows. Previously, users had to exercise greater care in storing, calling, and deploying the custom functions they created for their data integration applications. Calling functions is now simplified since Datascript modules can include references to other Datascript modules to any depth with Studio automatically managing the module dependency tree across multiple shared libraries.
A new operator template facility expands on expressor's already rich design reuse capabilities by enabling users to take "snapshots" of dataflow operators and add them to their dataflow tool palette for use in future dataflows. Combined with the new Datascript module artifact and read and write custom operators, the operator template facility completes the set of features demanded by more experienced expressor users to be able to extend the platform so that more casual users can take advantage of their customizations.
In addition to the extensibility framework, expressor 3.3 includes new features that simplify writing to database tables:

expressor Studio 3.3 can now generate table schemas from Semantic Types, and write table operators can use those schemas to create new tables in relational databases. This capability greatly facilitates the creation of new database schemas and saves development time and effort.
The expressor write table operator also now captures records that violate database constraints, either skipping the record or emitting it on a reject port.
In conjunction with expressor 3.3, expressor software has also launched an enhanced community center forum to better support its fast growing user base.
"We are working closely with the expressor team on developing a range of new connectors to Salesforce.com and other Web services-based applications," says Renat Khasanshyn, founder and chairman of Altoros Systems. "The new expressor extensibility framework allows us to easily map any external application data object such as a Salesforce.com contact to an expressor Semantic Type thereby providing expressor Studio users with an easy to use interface to connect to this new generation of cloud-based business systems."
"I am very pleased with the powerful and flexible architecture of our new extensibility framework," commented Bill Kehoe, chief architect, expressor. "This framework builds on our Semantic Types implementation and makes it easy for 3rd party developers, ISVs, and customers to deliver connectivity solutions that extend expressor into legacy system environments as well as new cloud-based services."
expressor delivers new versions of its data integration platform every two months throughout 2011. A live demonstration of the new expressor 3.3 capabilities is scheduled for July 13, 2011, 2pm ET. expressor 3.3 is available immediately and can be downloaded for free at http://www.expressorStudio.com.
About expressor software
expressor software knows data integration—and we know today's most capable data integration tools are too complex and too expensive. Our vision is to provide enterprise-class data integration software that is cost-effective, fast, and easy to use.
expressor's game-changing usability enables you to use less technical, lower-cost development resources. Our unique, active metadata foundation simplifies data mapping and transformation to reduce your time-to-value. And our dramatically lower cost makes it easy to justify replacing your brittle and expensive hand-coded implementations or underperforming in-house ETL tools. Version 3 of expressor is a comprehensive design, development, and on- and off-premises deployment platform tailored to support the full range of data integration applications, from tactical data migrations to data warehouses and predictive analytics.
To learn more about what makes expressor the leader in free and affordable, enterprise-class data integration, visit http://www.expressor-software.com or download the free expressor Studio at http://www.expressorStudio.com.
###