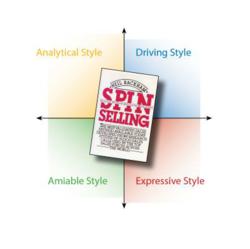 Centennial, CO (PRWEB) June 29, 2011
The TRACOM Group has released a new whitepaper on how its SOCIAL STYLE model complements the methods outlined in Neil Rackham's "SPIN Selling."
This white paper, "SOCIAL STYLE and SPIN Selling" is the latest in TRACOM's SOCIAL STYLE Connections series. These free, downloadable whitepapers discuss popular workplace effectiveness programs and how the behavioral preferences and emotional intelligence (EQ) concepts of SOCIAL STYLE enhance their impact.
SPIN Selling is a time-tested model used by tens of thousands of sales professionals. SPIN is an acronym for the four types of questions salespeople can use to effectively interact with customers: Situation, Problem, Implication and Need-Payoff. SOCIAL STYLE can be used in conjunction with SPIN Selling to further increase sales success by showing how people's behavioral styles, including the salesperson's, affect the sales process. In addition, the Versatility component of the SOCIAL STYLE model—the ability to adapt one's behavior in response to another's Style—enhances salespeople's effectiveness at every stage of the SPIN process, from planning through closing.
"The sales interaction is essentially about building relationships, and Rackham's method clearly shows that salespeople need to ask more and talk less," said Dr. Casey Mulqueen, TRACOM's Director of Research. "By practicing Style awareness, salespeople will have a much better chance of asking the right types of questions, and therefore will achieve greater success."
Originally developed in the 1960s, SOCIAL STYLE is the world's best-known interpersonal skills model. TRACOM's SOCIAL STYLE and Versatility profiles and programs directly develop a person's emotional intelligence (EQ) capabilities and teach how to put those skills to use in a variety of workplace settings and job functions.
Other titles in the SOCIAL STYLE Connections series include "SOCIAL STYLE and Crucial Conversations"; "SOCIAL STYLE and Situational Leadership II," based on the leadership effectiveness approach popularized by Ken Blanchard; and "SOCIAL STYLE and The Five Dysfunctions of a Team," which discusses Patrick Lencioni's classic leadership book.
"SOCIAL STYLE and SPIN Selling" is available for download at http://docs.tracomcorp.com/TPD/Whitepaper/Social_Style_and_Spin_Selling_Whitepaper.pdf.
Other SOCIAL STYLE Connections whitepapers are available at: http://www.tracomcorp.com/training-products/performance-library/SOCIAL_STYLE_Connections.html.
About The TRACOM Group
For 50 years, The TRACOM Group has helped individuals and organizations improve workplace performance by building interpersonal skills, improving teamwork and developing leaders. TRACOM offers measurement-based learning models, courses, surveys, assessment tools and consulting services. Much of TRACOM's work is based on the SOCIAL STYLE Model™, a proven model for effective leadership performance, work and personal relationships.
Media Contact:
Heath Davis Havlick
Fisher Vista, LLC / HRmarketer.com
831-685-9700
hhavlick(at)hrmarketer(dot)com
This press release was distributed through PR Web by Human Resources Marketer (HR Marketer: http://www.HRmarketer.com) on behalf of the company listed above.
###