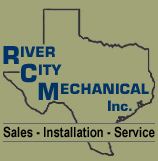 We're experiencing July temperatures in June, and it's only going to get hotter and hotter as we get deeper into summer."
Austin, TX (PRWEB) June 29, 2011
Austin HVAC Leader Making It Cheaper to Beat the Heat.
River City Mechanical Greets the Start of Summer With Free Service Calls, Steep Discounts.
Summer started officially this week in Austin — at least, that is, if you ignore the 16 days that topped 100-degrees already in 2011. It all adds up to a long, hot summer in Central Texas this year, and Austin HVAC systems are going to be working overtime in order to keep their residents cool and comfortable.
Austin heating and cooling leader River City Mechanical, Inc. is trying to make the summer heat just a little bit more bearable with a series of discounts, including:
•15 percent off total repairs.
•Free service call with any repair.
"We're experiencing July temperatures in June, and it's only going to get hotter and hotter as we get deeper into summer," says River City Mechanical owner Kevin Hoskins. "This is going to put a big strain on the cooling systems on homes all over Austin, and an even bigger strain on monthly energy bills. So this is our chance to give back to the city."
The Austin HVAC service mainstay has been combating Texas heatwaves since 1987, and it knows how to keep both summer temps and summer energy bills as low as possible. In fact, savings from replacements, repairs, and service go far beyond the promotion discounts themselves.
For example, many systems run inefficiently (and therefore expensively) before breaking. When River City Mechanical's specialists repair a broken HVAC system, they won't just get it back up and running the way it was before. They'll make it perform as efficiently and smoothly as per its original design. This lowers monthly bills, delays the eventual need for replacement, and ultimately leads to long-term savings.
Furthermore, River City Mechanical offers a comprehensive line of energy-efficient cooling equipment. When it's time for a replacement, new energy-efficient equipment from trusted brands like Carrier, Lennox, Trane, Amana, and Goodman can also lead to welcome monthly savings.
About River City Mechanical Heating and Cooling: Family-owned and operated since 1987, River City Mechanical has been keeping Austin cool for more than 20 years. On the strength of its expert staff, the company offers unmatched design, sales, installation, and 24/7 service of light commercial, residential heating and cooling, and energy-efficient green building projects across Central Texas.
# # #